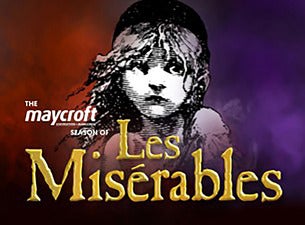 Musicals
Les Misérables Tickets
Events
18/08/22

Wellington, NZ

St James Theatre Wellington

Les Miserables

19/08/22

Wellington, NZ

St James Theatre Wellington

Les Miserables

20/08/22

Wellington, NZ

St James Theatre Wellington

Les Miserables

20/08/22

Wellington, NZ

St James Theatre Wellington

Les Miserables

21/08/22

Wellington, NZ

St James Theatre Wellington

Les Miserables

23/08/22

Wellington, NZ

St James Theatre Wellington

Les Miserables

24/08/22

Wellington, NZ

St James Theatre Wellington

Les Miserables (Audio described interpretation available)

25/08/22

Wellington, NZ

St James Theatre Wellington

Les Miserables

26/08/22

Wellington, NZ

St James Theatre Wellington

Les Miserables

27/08/22

Wellington, NZ

St James Theatre Wellington

Les Miserables

27/08/22

Wellington, NZ

St James Theatre Wellington

Les Miserables

28/08/22

Wellington, NZ

St James Theatre Wellington

Les Miserables

30/08/22

Wellington, NZ

St James Theatre Wellington

Les Miserables (Sign Language interpretation available)

31/08/22

Wellington, NZ

St James Theatre Wellington

Les Miserables

1/09/22

Wellington, NZ

St James Theatre Wellington

Les Miserables

2/09/22

Wellington, NZ

St James Theatre Wellington

Les Miserables

3/09/22

Wellington, NZ

St James Theatre Wellington

Les Miserables

3/09/22

Wellington, NZ

St James Theatre Wellington

Les Miserables

4/09/22

Wellington, NZ

St James Theatre Wellington

Les Miserables
About
With glorious new staging and dazzlingly reimagined scenery, this breathtaking production of Les Misérables will open at The Civic, in November 2019 in celebration of the 100th anniversary of Auckland Music Theatre. 
Set against the backdrop of 19th-century France, Les Misérables tells an enthralling story of broken dreams and unrequited love, passion, sacrifice and redemption – a timeless testament to the survival of the human spirit.  
Featuring one of the greatest scores of all time, with thrilling and beloved songs including I Dreamed A Dream, On My Own, On Day More and Do You Hear The People Sing this epic and uplifting story has become one of the most celebrated musicals in theatrical history.