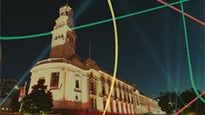 Events
34 results
14/12/23

UoA - FMHS School of Medicine

14/12/23

UoA - FMHS Schools of Nursing, Optometry & Pharmacy

14/12/23

UoA - Schools of the Faculty of Medical & Health Sciences

17/12/23

Auckland Choral presents Handel's Messiah

18/12/23

Auckland Choral presents Handel's Messiah

27/01/24

TwoSet Violin World Tour 2024

2/03/24

Dinosaur JR - Celebrating 30 Years Of Where You Been

8/03/24

AKLFEST: Hear Me Roar! (NZSL Interpreted)

13/03/24

AKLFEST: Jeff Mills: Tomorrow Comes the Harvest

15/03/24

AKLFEST: Martin Hayes & Guests

16/03/24

AKLFEST: Ju Percussion Group: Energy Infinite

21/03/24

AKLFEST: An Unfunny Evening with Tim Minchin and His Piano

22/03/24

AKLFEST: An Unfunny Evening with Tim Minchin and His Piano (NZSLI)
Venue Information
Directions
Auckland Town Hall is located on Queen Street, adjacent to Aotea Square, in the heart of Auckland's city centre.
Parking
The closest parking option is the Civic Car Park, located within a short walking distance. There are 1,000 car park spaces available. For information on other Auckland Council car parks visit www.at.govt.nz/driving-parking/parking-in-auckland/ Auckland City Council has many economic, safe and convenient car parks strategically placed throughout the CBD. The parking buildings are staffed during opening hours. All parking buildings provide disabled access.
Public Transportation
For information on bus, ferry and train services visit www.at.govt.nz/bus-train-ferry/ or telephone 09 366 6400. Taxis There is a taxi rank directly outside Auckland Town Hall on Queen Street. Taxis will pick up and drop off passengers outside the Queen Street entrance. For more information about taxis in Auckland visit www.at.govt.nz/driving-parking/taxis/ The following taxi services can provide mobility vehicles and/or assistance upon request: Taxi Co-Op www.cooptaxi.co.nz ph 300-3000 Dial-a-Ride www.dial-a-ride-transport.co.nz ph 625-5599
Box Office Hours
Auckland Town Hall Box Office is open 90 minutes prior to show start times. Outside of show times the Box Office at the nearby Aotea Centre is open Monday to Friday 9.00am - 5.30pm and Saturday & Sunday 10.00am - 4.00pm.
Accessible Seating
All Auckland Live venues can be accessed by wheelchairs and have lifts and ramps to assist those who have difficulty climbing stairs. Please communicate any special requirements regarding seats for wheelchair users when booking your tickets. Contact Ticketmaster on (09) 970 9711 or email customer.service@ticketmaster.co.nz If you require a wheelchair when arriving at the theatre or want to discuss anything related to your visit please phone Auckland Live on (09) 309 2677. For more information about accessibility at Auckland Live venues please visit www.aucklandlive.co.nz/accessibility
General Rules
Wheelchair Seats and Guide Dogs Companion seats are available for those booking wheelchair spaces and guide dogs are welcome at our venues. Find out more on Auckland Live website aucklandlive.co.nz/accessibility.aspx Smoking and the use of e-cigarettes are prohibited in all Auckland Live Venues
Children Rules
Children Children are welcome to attend events at Auckland Live but they will need their own ticket and sit in their own seat. All children under 12 years must be with a caregiver at all times. Children under the age of 3 years are considered too young to attend most events except where the event is for children and families. When the event is a family event - unless otherwise specified - a child under the age of 2 will be admitted free of charge but they must be seated on their caregiver's knee. Please check the event listing for details.
Miscellaneous
Cameras: Photography and filming is usually not permitted during a show, but this can vary depending on the event. Please check the foyer signage when you arrive. For safety reasons, the use of selfie sticks is prohibited throughout our venues.