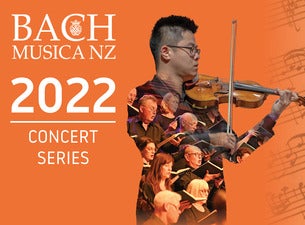 Classical
Bach Musica NZ Tickets
Events
18/09/22

Auckland, NZ

Great Hall, Auckland Town Hall

Bach Musica: Durufle Requiem, Piazzolla Tangos, Tolnay

11/12/22

Auckland, NZ

Great Hall, Auckland Town Hall

Bach Musica: Best of Bach
About
Bach Musica: Handel Samson 
Bach Musica NZ presents Handel's dramatic oratorio Samson.

Handel Samson 
Rita Paczian conductor 
Joanna Foote Soprano
Kate Spence Alto
Andrew Grenon Tenor
Joel Amosa Bass
Samuel McKeever Bass

Handel composed Samson immediately after Messiah in 1741. It proved an instant success and has never fallen out of favour since then.
The libretto is based on Milton's Samson Agonistes. As Milton was blind, he could emphasise with the blindness of Samson, as indeed could Handel whose sight was also beginning to fail. It is a highly operatic work, from a famous operatic composer. The chorus's role is like the Greek chorus in that it sets the scene, offers moral comments, describes the action in thrilling detail and thus gives a backdrop to the various soloists whose characters are vividly portrayed through Handel's dramatic writing. 
The oratorio is dramatic and tragic, but it ends joyfully with its brilliant soprano aria Let the Bright Seraphim followed by the final triumphant chorus Let their celestial concerts all unite. Samson's great deed has brought redemption to God's people and the work ends triumphantly with a great hymn of praise, in endless morn of light.
Andrew Grenon is featured in the title role of Samson.
Bach Musica: Durufle Requiem, Piazzolla Tangos, Tolnay 
Bach Musica NZ presents Durufle Requiem, Tolnay Symphony 2019 (world premiere) and Piazzolla Adios Nonino & Escolaso
Durufle Requiem
Tolnay Symphony 2019 (world premiere)
Piazzolla Adios Nonino & Escolaso 
Rita Paczian conductor 
Stephanie Poole Accordion
Elisha Hulton Mezzo Soprano
Robert Tucker Baritone

Both pieces by tango Argentinian composer Astor Piazzolla feature solo accordion and orchestra. Adiós Nonino (Farewell, father) was written in 1959 in memory of his father, Vicente "Nonino". Piazzolla's tango Escolaso is equally famous. 
We are proud to present the world premiere of Symphony 2019 by Hungarian-NZ composer Gabor Tolnay. Gabor is a jazz pianist and composer based in Nelson. His Symphony 2019 was inspired by his late wife Judit. 
Durufle's moving Requiem, published in 1948, is the main piece in this concert. It features two vocal soloists, chorus and a big symphony orchestra. The piece is regarded as one of the outstanding choral works of the 20th century.
Bach Musica: Best of Bach 
Bach Musica NZ presents Best of Bach with Bach's Magnificat, Violin Concerto in E Major, Flute Concerto in e minor BWV 1059/35 (NZ premiere), Jauchzet, frohlocket from Christmas Oratorio 
Rita Paczian conductor 
Yanghe Yu Violin
Luca Manghi Flute
Elizabeth Mandeno Soprano
Wendy Dawn Thompson Alto
Iain Tetley Tenor
James Harrison Baritone
Our Best of Bach concert commences with the NZ premiere of the composer's Flute Concerto in e minor, played by internationally acclaimed Italian flutist Luca Manghi.
Choir and full orchestra assemble next to perform Bach's most famous Christmas chorus Jauchzet, frohlocket, the opening music of his Christmas Oratorio.
Bach Musica NZ's concertmaster, Yanghe Yu, features as soloist in Bach's Violin Concerto in E Major.
In the second half, Bach Musica NZ presents the composer's famous Magnificat, scored for four vocal soloists, 5-part chorus and large Baroque orchestra, including three majestic trumpets. The ultimate Christmas music! 
"It is conceivable, that when Bach premiered his immortal work in Leipzig almost 300 years ago, that the quality of his concert would have been eclipsed last Sunday by that of Bach Musica NZ's rendition - and this in remote New Zealand!"
Rainer W. Buhmann, review of Bach Musica NZ's St Matthew Passion performance in April 2021 
For more information visit www.bachmusica.com