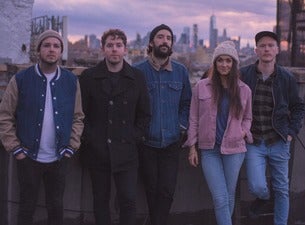 Country and Folk
The Paper Kites Tickets
New Zealand
There are no upcoming events in New Zealand
Don't worry, there are other events available below
About
Melbourne indie-folk act The Paper Kites 
announce New Zealand tour
Australian indie-folk outfit The Paper Kites are returning to New Zealand shores.
The Melbourne-based band behind the smash hit 'Bloom' are bringing their 'WHERE YOU LIVE' tour to Blue Smoke in Christchurch on Wednesday, March 27; San Fran in Wellington on Thursday, March 28 and the Tuning Fork in Auckland on Friday, March 29.
The Paper Kites last toured New Zealand in 2015 and are looking forward to crossing the Tasman once again, capping off a phenomenal 12 months in which they released two critically acclaimed albums - ON THE TRAIN RIDE HOME and ON THE CORNER WHERE YOU LIVE.
"After spending so much time touring and recording overseas over the past few years we are so happy to finally bring these new songs to New Zealand. We can't wait to head back to some of our favourite cities around the country and share this new album with our home crowd!" 
The Paper Kites have earned a loyal, organic fan base all across the world. With monumental streaming numbers, 200 shows across the world in just under three years and recent Gold accreditation in the US with nearly 700,000 copies of their track 'Bloom' being sold in the country, The Paper Kites are Australia's quiet achievers. And their world class songwriting prowess shines on their most recent album ON THE CORNER WHERE YOU LIVE. 
ON THE CORNER WHERE YOU LIVE was co-produced with Grammy-winner Peter Katis (Interpol, The National) at his studio in Connecticut - a 120-year old Victorian era home that the band lived and recorded in for 5 weeks.
"It's a collection of stories about these characters all living in an apartment building; I wanted to capture moments, feelings, it's about people and their stories," says lead vocalist, Sam.
Best listened to from start to finish, as each story seeps into the next; meditative yet complex, ON THE CORNER WHERE YOU LIVE is an album for loyal fans of The Paper Kites but also one that's guaranteed to draw new audiences too.
Don't miss The Paper Kites live in concert this March.
Wednesday March 27 Blue Smoke, Christchurch R18
Thursday March 28 San Fran, Wellington R18
Friday March 29 Tuning Fork, Auckland (Licensed/All Ages)