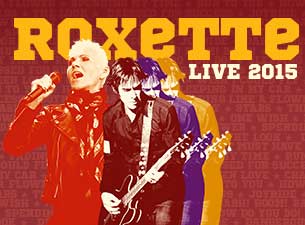 Rock and Pop
Roxette Tickets
Events
We're sorry, but we couldn't find any events
About
Live Nation is excited to announce that legendary Swedish pop-rockers ROXETTE are returning to New Zealand in February 2015 for their first ever concert performance.
At the height of their career in the late 80's the duo visited New Zealand for a promotional visit, however they never performed. Then their 2012 concert was regrettably cancelled due to illness however the band vowed to return to perform for their fans.
Roxette's 2011-2012 World Tour that took them around the globe twice over, playing to more than 1.5 million people in 46 countries, Roxette - Marie Fredriksson and Per Gessle - are ready to do it all again launching their Australasian tour in Auckland at Vector Arena on Saturday, February 7.
 "We are beyond thrilled to finally have the opportunity to perform in New Zealand, a stunning country with beautiful fans who have remained some of our most loyal supporters over the last 25 years," says Per Gessle. "Marie, the band and I are ready and raring to go with a brand new show full of our best hits and a few surprises".
One of Sweden's finest exports, Roxette have a string of much loved hits under their belt including Listen To Your Heart, The Look, How Do You Do, Spending My Time, Joyride, Dangerous, Sleeping In My Car, Dressed For Success, It Must Have Been Love, Almost Unreal and many, many more.
Arguably one of the world's most successful power-pop duos, Roxette this year celebrate the 25th anniversary of their juggernaut hit single The Look reaching #1 on the Billboard US Chart in 1989. This track kicked off one of music's longest-running pop careers with the duo selling more than 75 million albums worldwide to date. The band topped the Australian singles charts three-times with smash hits It Must Have Been Love, Joyride and The Look, with five of their albums reaching the Top 10 on the Australian album charts.
The band's come-back began in 2011 with the release of hit single She's Got Nothing On (But The Radio) lifted from the album "Charm School". This, along with their sellout 2011-2012 World Tour, cemented the fact that Roxette were back bigger than ever, much to the joy of fans worldwide.
Roxette's 2012 tour was a triumphant success, with the first arena shows selling out instantly, extra dates added and rave reviews from fans and media alike. "Unless you'd seen it for yourself, you can't imagine the mass frenzy the return of Roxette caused," said the Herald Sun in Australia. "Roxette's is a back catalogue to die for," said Life Music Media, while Tone Deaf raved "Every hit gets a big rock ending, every ballad sees several hundred lighters aloft and we love every moment of this trip back to the 90s."
And so the Roxette joyride continues with their World Tour hitting New Zealand shores in 2015. Listen to your heart and come join it!
For full tour and ticketing information, visit: www.roxette.se & www.livenation.co.nz