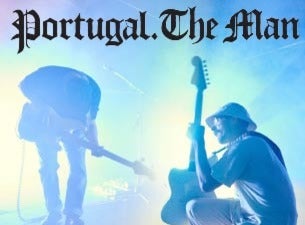 Rock and Pop
Portugal. The Man Tickets
New Zealand
There are no upcoming events in New Zealand
Don't worry, there are other events available below
About
LOCK IN NEW ZEALAND HEADLINE SHOWS THIS MAY
Portugal. The Man are continuing to take the world by storm as Frontier Touring is thrilled to announce the Alaskan juggernaut is set to perform in May at a one-off show in Auckland!
Following the seven string release of albums roughly every year since 2006 and a decade of global touring, the seven-piece band hit their stride last year with the release of Woodstock, their first album to be released since 2013. 
As their most socially conscious music to date, the band found inspiration following lead singer John Gourley's trip home to Wasilla, Alaska where he encountered a combination of parental tough love from his old man and his original ticket stub from the 1969 Woodstock music festival. Breaking free from the musical difficulties they'd faced over recent years, the band set out in the same tradition of bands from the Woodstock era, feeling inspired to speak out about the world crumbling around them.
Working with John Hill (In the Mountain in the Cloud), Danger Mouse (Evil Friends), Mike D (Everything Cool) and longtime collaborator Casey Bates (the one consistent producer since the first record), the album has been met with huge success, having peaked at no. 3 on Billboard's US Top Alternative Albums chart.
'The 11-song set hits on themes of Alaskan life, fantasy, home and growing up, all set to a funky and psychedelic Motown-inspired beat.' – Washington Post
'Binding the whole piece more than even the cross-faded tracks, is the limber voice of singer-songwriter John Baldwin Gourley, which can hop north into a crystal falsetto, or drop down into a soulful moan at a second's notice..' – Pitchfork
Woodstock features massive, Grammy award-winning single 'Feel It Still', which reached 3x ARIA Platinum, peaked at #5 on the ARIA charts and came in at #26 on triple j's Hottest 100 for 2017. Adding to their global presence, new single 'Live In The Moment' is currently sitting at more than 7 million views on YouTube and at #1 on Triple A and alternative radio in the United States, following a performance of the track on the Late Show with Stephen Colbert. The band is also set to appear at Coachella Music and Arts Festival, where they are billed to perform on the same day as Eminem.
Don't miss out this one-off show in Auckland!