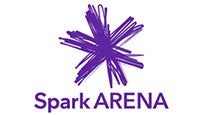 Events
34 results
12/12/23

AUT Graduation December 2023 - Business, Economics & Law

12/12/23

AUT Graduation December 2023 - Health and Environmental Sciences A

12/12/23

AUT Graduation December 2023 - Health and Environmental Sciences B

13/12/23

AUT Graduation December 2023 - Design and Creative Technologies A

13/12/23

AUT Graduation December 2023 - Design and Creative Technologies B

13/12/23

AUT Graduation December 2023 - Culture & Society and Te Ara Poutama

14/12/23

50 Cent: The Final Lap Tour

22/12/23

BNZ Breakers v Sydney Kings

7/01/24

BNZ Breakers v Perth Wildcats

20/01/24

BNZ Breakers v South East Melbourne Phoenix

28/01/24

Melanie Martinez Portals Tour

9/02/24

BNZ Breakers v Illawarra Hawks

16/02/24

BNZ Breakers v Brisbane Bullets

27/02/24

Jonas Brothers - Standard Tickets

27/02/24

Jonas Brothers - VIP Packages

29/02/24

Queens of the Stone Age: The End Is Nero
Venue Information
Directions
The Main road links are from Quay Street and Beach Road. Spark Arena is located in the heart of Auckland City and is close to all transport and public amenities.
Parking
Road Closure Information Please note that Mahuhu Crescent is subject to road closure prior to, during, and after most Spark Arena events. Road Closure for major events held at Spark Arena will be communicated through the Auckland City Council City Scene Newsletter, and road signs. For further information please feel free to call Spark Arena on 09 358 1250 Special Needs Assistance: Spark Arena provides extensive facilities for patrons with special needs. Parking for mobility A limited number of mobility impaired parking spaces are available to book in advance of the event. Please contact Spark Arena to check availability to secure your parking space. Email: info@sparkarena.co.nz Please include your contact phone number and vehicle registration number when enquiring. Wheelchair seats For wheelchair seating please specify this with us when booking your tickets Lift Access Two lifts are located in the Grand Atruim to the North Side. Braille is incorporated on lift access. Washrooms All washrooms are fully serviced for wheelchair access. Guide Dogs All guide Dogs are Welcome in Spark Arena Hearing Assist System All patrons requiring assisted hearing will need to contact Spark Arena on 09 358 1250 Latecomers Late access varies from event to event and at times patrons may be asked to wait until ushers give access to the arena. Please ensure you plan your journey to arrive well in advance of the advertised show start times. Catering All Food and Beverages consumed at Spark Arena must be purchased from one of the many outlets located throughout the building. A wide range of food and beverages are available to purchase and take with you to your seats. The Tuning Fork is located at the South side of Spark Arena and is a fully functional dining facility for delicious food and beverages, an ideal place to meet friends before the show. The Tuning Fork is open during selected events, please call 09 358 1250 or email info@sparkarena.co.nz to be advised of times of operation. Groups For all Group booking enquiries please contact Ticketmaster (09) 970 9334 Conditions of Entry Entry to Spark Arena is based on your full agreement with these basic Conditions of Entry, which have been designed with everyones safety and comfort in mind. Management reserves the right to refuse entry to any person, and to remove from the premises, without refund, any person who violates any of the conditions listed below. We also reserve the right to inspect any bag and/or articles of clothing via screening equipment and/or bag search checks. No ticket refunds or exchanges will be provided in case of violation of these conditions. CUSTOMER SAFETY Obey instructions from our uniformed staff at all times. The movement of customers within our premises is monitored by CCTV cameras. You may also be photographed for training or promotional use. Rights to all such footage stays with Spark Arena. You may only occupy the area and / or seat indicated on your ticket. Do not attempt to enter a restricted area. Climbing on barricades and crowd surfing are not permitted. Shoes must be worn at all times. BEHAVIOUR & ETIQUETTE Drink responsibly Anyone intoxicated or using drugs will be removed from the building without recourse. Use of smartphones or other devices must not cause distraction or annoyance to others. Ipads, tablets and laptops may not be used in the bowl during events. Unruly and antisocial behaviour will not be tolerated. This includes, but is not limited to, verbal/physical abuse of staff and other customers, attempting to enter a restricted area, climbing, defacing, littering, throwing objects, blocking thoroughfares or fire exits. PROHIBITED Alcohol in any type of container Bottles of any kind, cans, glass containers Gang patches or colours Firearms, fireworks, flares, laser lights Weapons of any kind, mace, tasers Illegal substances Musical Instruments, rollerblades, skateboards, scooters, bicycles, sporting equipment Marker pens, spray paint, tagging equipment Signage and promotional products Animals other than guide dogs Professional type cameras & other video or audio recording equipment (this may vary from event to event. Please refer to the event page for details). Commercially branded food and drink (eg, fast food) Steel toed boots Selfie sticks A NOTE ON ALCOHOL Following are the only accepted forms of ID for the purchase and consumption of alcohol: A valid passport New Zealand Driver Licence Hospitality New Zealand 18+ card Alcoholic beverages must not be taken in or out of Spark Arena. You may not supply alcohol to anyone under 18 on our premises. Anyone intoxicated will be removed from the premises and will not be readmitted.
Public Transportation
Spark Arena is within easy walking distance from all major transport hubs. Britomart Railway Station and Bus Terminal: Located approximately five minutes walk (630 metres) from Spark Arena. Stairs and an entrance at the eastern end of the Britomart platform will bring patrons out onto a walk way that will take them to Britomart Place. Buses: Most buses into Auckland CBD come within an easy walk of Spark Arena. For example The Link bus is an Auckland city bus loop service, with stops located in Quay Park, Downtown, Britomart, Mid Queens Street, Victoria Park, Ponsonby, Karangahape Road, Parnell, Auckland Domain, Newmarket, Auckland City Hospital, University of Auckland, AUT and Auckland Library. Downtown Ferry Terminal: Is located down Quay Street, towards the city approximately 800 metres from Spark Arena. For further information on bus, train and ferry services please visit www.at.govt.nz Taxis: A Taxi Pickup point is located on Mahuhu Crescent, situated between Beach Road and Tapora Street (West Side). Passenger Vehicle Drop off: Drop off and pick up is located on Quay Street adjacent to the Spark Arena Access Ramp.
Box Office Collection Accepted
PLEASE NOTE: The Spark Arena Box Office is open four hours prior to the doors opening time on show days. If patrons wish to collect tickets prior to the event day, tickets can be picked up (if any applicable print suppression on an event has been lifted) from any Ticketmaster Outlet or Box Office, subject to their usual opening hours. The closest Box Offices to Spark Arena are The Aotea Centre and Bruce Mason Centre.
Children Rules
Children under the age of 14 must be supervised by a responsible adult (18+) while on the premises. No-one under the age of 15 is permitted on the standing GA floor without being accompanied by an adult (18+).