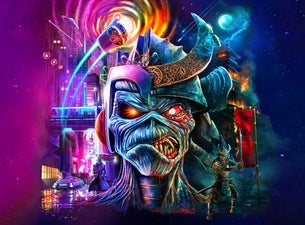 Hard Rock/Metal
Iron Maiden Tickets
New Zealand
16/09/24

Auckland, NZ

Spark Arena

Iron Maiden - The Future Past Tour
About
Following their spectacular performances this year across Europe, in Western Canada and at the recent PowerTrip Festival in California, iconic British band IRON MAIDEN will be bringing THE FUTURE PAST TOUR to New Zealand next year. This will be the first return to New Zealand since the band touched down on Ed Force One for their 2016-17 The Book of Souls Tour.
Special guests for The Future Past Tour New Zealand show is American metallers Killswitch Engage.
THE FUTURE PAST TOUR, which includes songs from both the band's most recent studio album Senjutsu as well as 1986's seminal album Somewhere In Time, alongside other fan favourites, played to over 750,000 fans at more than 30 sold-out shows across Europe in the summer of 2023. Featuring one of the most spectacular stage productions of the band's career, it received rave reviews in every city and country that IRON MAIDEN visited.
Bassist Steve Harris says, "We've really enjoyed playing all the shows on THE FUTURE PAST TOUR this year, and the reaction from our fans has been incredible. Being able to play some of these songs for the very first time has made the tour even more memorable, and we can't wait to continue it next year. We're all really excited to finally be able to return to New Zealand, as we know our fans have waited so patiently for us over the past few years. It's going to be great to get back there, especially with this new show. We promise you all, it'll be worth the wait!"
Manager Rod Smallwood comments, "All our best-laid plans to bring the Legacy Of The Beast Tour to New Zealand were derailed by the shut-down of the live music industry during covid, but we assured everyone at the time that we would come back to New Zealand, and as our fans know, we always keep to our promises. So, as you would imagine, we're very much looking forward to bringing this amazing new show to the Southern Hemisphere and giving our loyal New Zealand fans the best Maiden show we can. You can be assured it's worth the wait. See you all in 2024!"
Iron Maiden are one of the biggest-selling live acts globally. Their last tour – Legacy Of The Beast – played to over THREE MILLION people worldwide. With over 100 million record sales, more than 2000 live performances in 63* countries, tens of millions of fans and 16 studio albums of unerring quality and power to their name, Iron Maiden have more than earned their proudly held status as one of the most influential and revered rock bands of all time.
New Zealand get ready, the best rock tour of 2024 is coming your way. The Future Past Tour lands in Auckland at Spark Arena on 16th September.