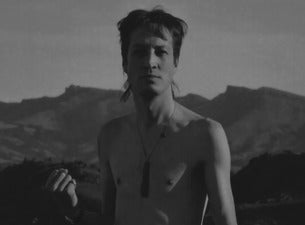 Country and Folk
Marlon Williams Tickets
Events
We're sorry, but we couldn't find any events
About
MARLON WILLIAMS + KACY & CLAYTON RELEASE NEW SINGLE 'I WONDER WHY', ANNOUNCE DEBUT COLLABORATION PLASTIC BOUQUET OUT DEC 11.
MARLON WILLIAMS TO EMBARK ON SOLO TOUR OF NEW ZEALAND THIS SUMMER 
Marlon Williams is back with a new single with Canadian duo Kacy & Clayton. 'I Wonder Why' is out now accompanied by a video which was filmed during recording in Saskatoon, Canada.
'I Wonder Why' is the lead single off the debut collaboration by Marlon Williams and Kacy & Clayton Plastic Bouquet which is out on Friday Dec 11.  The album was recorded during the Canadian winter of 2018 and is finally ready to see the light of day. This is the first new music from Marlon since 2018's award winning Make Way For Love. 
In celebration of new material, February 2021 will welcome the long-awaited return to the stage for the Lyttelton based singer/songwriter. Over an extensive tour of Aotearoa, audiences will be treated to a very different show from Marlon – a full solo performance unearthing some early material, beloved album songs and an introduction to some sparkling new works. This will be Marlon's first solo tour in over six years. 
"I'm sure the state of the world at large has a big part to do with it, but I've never felt more connected to this place nor more of a desire to explore its nooks and crannies. I want to scrounge my coins together for a hotdog from the Waihola Fish and Chip shop. I want to wind the window down driving over the Rimutakas because I've forgotten, once more, what happens when I try to read a book on that stretch of road" says Marlon. 
This tour will take on the feel of Marlon's early days of performing and the hard-working ethic of playing gig after gig through Australasia whilst still presenting the internationally renowned musician that we now know today. 
An Evening with Marlon Williams is an upfront and personal tour visiting cozier venues than before and giving guests the experience of a more intimate Marlon. 
2020 has been a time for Marlon to focus on some new musical projects; one of which can now be revealed… 
Every December, Christchurch enjoys the start of summer as Saskatoon begins to freeze over. For as far apart as these places may seem, you would never know it from Plastic Bouquet [New West Records]—the debut collaborative album between Saskatoon duo Kacy & Clayton and New Zealand singer and songwriter Marlon Williams.
Two separate paths united them. Building a discography of five albums since 2011, Kacy & Clayton delivered a pair of critically acclaimed records The Siren's Song [2017] and Carrying On [2019] produced by Jeff Tweedy of Wilco. Beyond praise from Q Magazine, Uncut, and more, they racked up millions of streams and toured with Wilco and The Decemberists, to name a few.
On the other side of the world, Williams went from performing with his first band The Unfaithful Ways and as a duo with Delaney Davidson, to launching his award-winning solo career. Between his self-titled full-length debut Marlon Williams (2015) and Make Way For Love (2018), he played many of world's major festivals, toured and performed with Bruce Springsteen, Florence + The Machine, Brandi Carlile and Lorde, and appeared on late-night TV shows CONAN and Later with Jools Holland. Williams has also won multiple New Zealand Music Awards and APRA Awards, and was handpicked by director Bradley Cooper to appear in Academy® Award-winning film A Star Is Born, in addition to roles in True History of the Kelly Gang and upcoming film Lone Wolf.
Now, these three musicians find common ground between a lifelong shared passion for Western country, folk, and troubadour traditions.
"We wanted to see if we could meld hemispheres," says Marlon. "I'm bringing this Pacific style of country music with the harmonies and choral elements. Kacy & Clayton have a super identifiable sound. They embody everything I love about North American folk. There is a rural weariness where they're telling tales that have been told a million times in their own way. I feel the strength in it."
Kacy sums it up with a smile, "The three of us are just old timey kids."
Marlon hopped a flight to Saskatoon for Christmas 2018, and they wrote and recorded the bulk of what would become Plastic Bouquet over the course of just three weeks. They unlocked undeniable chemistry as Marlon underwent a transformation of his own.
Their connection drives these eleven tracks. The first single "I Wonder Why" pairs creaky guitar and airy slide with a fluttering hook, "You're fooling 'round with my heart. I wonder why." Meanwhile, Kacy's voice glides over acoustic strumming on "Your Mind's Walking Out" as Marlon responds with a warm harmony.
Elsewhere, "Arahura" directly reflects Marlon's roots as it "brings the South to the North" with a Pacific harmonic sensibility, ethereal melody, and slow burning soundscape.
The bluegrass sway of the title track offsets a sunny singalong with a somber recollection, "He was a good kid, that's what they say, on the cross by the highway, with a plastic bouquet."
Kacy adds, "After we wrote that song, my dad got in a car accident by the same spot. He's okay, but it was eerie. There's something beautiful and scary about 'Plastic Bouquet'. It's kind of like us."
In the end, Kacy, Clayton, and Marlon bring sounds and traditions together on Plastic Bouquet.
"I hope there's interest in the meeting of two worlds that are really similar, but different at the same time," concludes Marlon. "It creates this little Ethnosphere that we believe is more than the sum of its parts." 
AN EVENING WITH MARLON WILLIAMS
All shows All Ages
Tickets on sale Friday 30 Oct 12pm.
ALL SHOWS RESERVE SEATING.