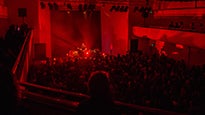 Venue Information
Directions
The Glenroy Auditorium is part of the Dunedin Centre and is located in the heart of Dunedin, only a short walk from the Octagon. The entrance to the Glenroy Auditorium is on Harrop Street (between Moray Place and the Octagon).
Parking
Pay-and-display parking is available in the immediate area surrounding the Glenroy Auditorium and several car park buildings are available in the town centre. For more information visit: https://www.dunedin.govt.nz/services/parking/where-you-can-park
Public Transportation
Time tabled bus services are available to the Octagon. Visit http://www.orc.govt.nz/Information-and-Services/Buses/ or call 03 474 0287 to check up-to-date time tables. The nearest taxi stand is in the upper Octagon, only a few metres from the Glenroy Auditorium entrance. Taxis can also drop off passengers directly outside the Glenroy Auditorium.
Box Office Hours
The Glenroy Auditorium box office usually opens 30 minutes prior to show start times. For exact times, please refer to the door opening time on your ticket.
Accessible Seating
There are no designated wheelchair spaces at the Glenroy Auditorium but wheelchair seating can be arranged on ground level. To book wheelchair spaces please contact Dunedin Venues Management on 0800 24 64 64 or email tickets@dunedinvenues.co.nz. Please mention at the time of booking if you require a wheelchair space. Mobility access to the Glenroy Auditorium is through the main entrance on Harrop Street.
General Rules
Attending an event: We recommend arriving at least 20 minutes before the event starts to avoid queues and to allow for sufficient time to find your seat. A selection of beverages and snacks are also offered at the Glenroy Auditorium and provide a great opportunity for guests to arrive early and enjoy a drink before the show. Lost property: If you lose a personal belonging at an event, please contact Dunedin Venues on 0800 24 64 64. The venue management office is open Monday-Friday between the hours of 8.30-5.00pm.
Children Rules
Please check event listings for details that may apply to children for the event. Note all children under the age of 14 must be supervised by an accompanying adult as required by New Zealand Law. For family events, children under the age of 2 and under are free on a caregiver's lap. If a child requires their own seat, a ticket must be purchased (unless stated otherwise). For some events a special price category will be offered. Please check event listings for details.
Miscellaneous
Tickets can be picked up Monday to Friday, 8.30am - 5.00pm, from the Forsyth Barr Stadium reception at Door J (between Gate A and H), or from the Glenroy Auditorium box office on the day of the event. Please refer to box office opening hours under the event details and arrive early to avoid queues. Photo identification and purchase confirmation are required to pick up tickets. If you selected 'Print-at-Home' as your ticket delivery option, please ensure you print off your ticket before the event - Print-at-Home e-Tickets cannot be collected from Forsyth Barr Stadium reception or the box office. For more information on the Dunedin Centre or the Glenroy Auditorium, please visit: http://www.dunedinvenues.co.nz/