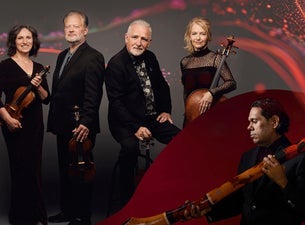 Classical
Chamber Music New Zealand Tickets
New Zealand
15/03/24

Wellington, NZ

Michael Fowler Centre

Barton & Brodsky

22/03/24

Auckland, NZ

Concert Chamber, Auckland Town Hall

Chamber Music NZ - Barton & Brodsky
About
New music from French for Rabbits
As part of Chamber Music New Zealand Puoro Taiwhanga Aotearoa's flagship CMNZ series, dream pop luminaries French for Rabbits are about to hit the road for a four-centre tour that will see the band perform brand new pieces from their soon to be released EP In the End I Won't Be Coming Home. Known for their atmospheric and seascape references, the multi-instrumentalists have garnered a reputation as a superb live act and throughout this tour will be joined by string ensemble The Black Quartet.
Led by songwriter and vocalist Brooke Singer, French for Rabbits have dedicated over a decade to creating their warmly detailed and expansive sound. The project came to life when Singer began working with guitarist John Fitzgerald in 2012, his minimalist, shimmering guitar lines providing the backbone for their early work. For this series of shows, they perform as a four-piece, with Penelope Esplin on backing vocals, bass, and synth, and Hikurangi Schaverien-Kaa on drums.
In July, the 2022 Taite Music Prize nominees recorded a new collection of songs including beautiful arrangements for a string quartet, which emerged as an intricate and powerful four track EP titled In the End I Won't Be Coming Home, due for release in the coming months.
"It's a thrill to premiere these new works in a chamber setting, as intended, and to celebrate their imminent release with live audiences," says Singer. "This new collection of songs explores themes including art and philanthropy, secret keeping, and silver linings. The Black Quartet weave their way through the songs, deftly evoking the sounds of Aotearoa's landscapes – a dawn chorus welcomes us in on In the End I Won't Be Coming Home, the swirl and eddy of a tide turning, and the blustery winds that whip around the coast are present on Baring Head."
French for Rabbits worked with arrangers Elliot Vaughan, Mahuia Bridgman-Cooper (The Black Quartet) and Mikal Cronin (Ty Segall Band), to set 12 songs from previous releases and the new EP for band and strings.
Artists
Brooke Singer, lead vocals, piano, acoustic guitar
John Fitzgerald, electric guitar
Penelope Esplin, backing vocals, bass, synth
Hikurangi Schaverien-Kaa, drums
Jessica Hindin, violin
Mahuia Bridgman-Cooper, violin
Joseph Harrop, viola
Sarah Spencer, cello