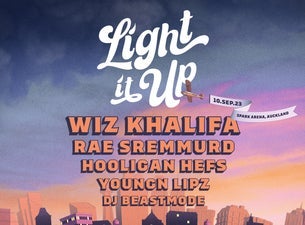 Rap and Hip-Hop
Wiz Khalifa Tickets
Sorry... there are currently no upcoming events.
About
Wiz Khalifa, Rae Sremmurd & Hooligan Hefs Lead Massive New NZ Hip Hop Event 'LIGHT IT UP'
New Zealand has just scored itself a brand new, all ages, national touring hip hop event, set to hit arenas this September!
As New Zealand's love for hip-hop continues to grow, fans around the country are about to be rewarded in a big way with the announcement of LIGHT IT UP, the latest major hip hop / rap event set to take the country by storm.
Kicking off in September 2023, LIGHT IT UP's inaugural year will see some of the most sought after names in hip hop descending on the country's largest entertainment arena thanks to MJR, Switch! and CADA.
Leading the announcement is North Dakota Hip Hop juggernaut and hugely successful entrepreneur Wiz Khalifa, who will headline shows in New Zealand for the first time since his 2015 sellout tour which came off the back of the globally revered single 'See You Again (ft. Charlie Puth)' from the Fast & Furious 7 soundtrack.
Joining Wiz Khalifa on the national festival run will be American hip hop duo Rae Sremmurd. Rae Sremmurd will be landing here for the first time since their standout performance at FOMO Festival in 2019!
In addition to a lineup stacked with top tier American hip hop acts, Australian born and raised hip hop will also be front and centre with NSW's very own pioneer of Australian drill, Samoan/Chinese artist Hooligan Hefs and Australian-Samoan hip-hop rising star Youngn Lipz, as well as the DMC Champion DJ BeastMode.
Backed by the creative brains at TEG MJR and Switch Events - whose previous tours have included Snoop Dogg's highly acclaimed multi-date arena tour, Ice Cube's recent sell out Australian run, 50 Cent's massive outdoor events and countless others - LIGHT IT UP Festival will mark the next major step for hip hop focused festivals in New Zealand.