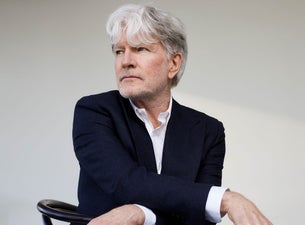 Rock and Pop
Tim Finn Tickets
New Zealand
There are no upcoming events in New Zealand
Don't worry, there are other events available below
About
Pre-eminent singer, songwriter, musician and international artist TIM FINN announces his welcome return to Australian and New Zealand stages this September celebrating his creative life with 'The Lives and Times Of Tim Finn' concert tour.
"Tim Finn is a living legend in Australian and New Zealand music. I myself have been his number one fan for more than forty years. He doesn't look old enough, but it's true. The chance to see Tim playing live is great cause for celebration, and furthermore a grand night out." Sam Neill
General public tickets go on sale 11am Monday 29 May.
My Live Nation members can secure tickets during a pre-sale commencing 10am Friday 26 May until 10am Monday 29 May.
After being largely off the concert grid for the last decade, this is the return of the man who led Split Enz, wrote and performed in Crowded House - during the Woodface era - and has enjoyed a formidable solo career.
This series of shows sees Finn returning to the stage with a full band and with a set list that is largely unmatched: beginning in 1977, the songs in the show will run the gamut of his best work.
The Lives and Times of Tim Finn will see the artist performing highlights from Split Enz, Crowded House and his solo material, performing songs from era defining albums including; Dizrhythmia, True Colours, Time & Tide, Woodface, Escapade and Before & After.
To understand the magnitude of The Lives and Times Of Tim Finn tour, you have to look at how the legend was built. There's Tim the showman, and, equally important is, Tim Finn the song writer.
Expect to hear Split Enz hits 'I See Red', 'I Hope I Never', 'Six Months in a Leaky Boat' and 'Dirty Creature', Crowded House's 'Weather With You' and 'Chocolate Cake', and solo favourites 'Fraction Too Much Friction', 'Made My Day', 'Staring At The Embers', "Persuasion" and so ... much... more.
"It felt like my time had come," says Finn of his decision to put a band together and tour.
"After spending 10 years writing songs for music theatre and developing a new opera, I played a one-off open air show for 2000 people in Manly, Australia last year and loved the way my live band was so tight and focused. Playing all the parts that belong on the recordings, the right sounds, the right grooves... it made me want to do it again. I crafted a chronological setlist that followed the 40 years. I chose songs that I can still fully inhabit, songs I never tire of singing. Now I want to take that show through Australia and NZ, going into old venues that are filled with ghosts of shows gone by."
Finn's theatre work, as a composer and lyricist, includes The Helpmann award winning musical Ladies in Black, an adaptation of Kazuo Ishiguro's Come Rain Or Come Shine for the Melbourne Theatre Company and Ihitai 'Avei'a-Star Navigator for the New Zealand Opera Company to name a few. As engrossing and satisfying as these collaborations were, Finn missed the direct and visceral contact with a live audience. He missed performing.
"Playing live is the link between a songwriter and his or her next album," he explains, "It feeds into the writing. And it never gets old."
The Lives and Times of Tim Finn tour, showcasing Tim Finn's most well- known work, happens on;