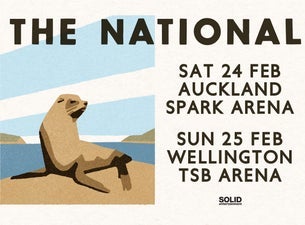 Rock and Pop
The National Tickets
New Zealand
24/02/24

Auckland, NZ

Spark Arena

The National

25/02/24

Wellington, NZ

TSB Arena

The National
International
28/02/24

Brisbane, QLD, AU

Riverstage Brisbane

The National with very special guests Fleet Foxes

9/03/24

West Perth, WA, AU

Kings Park

The National with very special guests Fleet Foxes

10/03/24

West Perth, WA, AU

Kings Park

The National with very special guests Fleet Foxes
About
Solid Entertainment are honoured to announce the return of THE NATIONAL in February 2024 for their first shows in NZ in six years. Following the Covid enforced cancellation of the bands two sold-out shows at Auckland's Civic Theatre in 2020 The National's impeccable musical output now includes three more hugely acclaimed new albums. Already established in the elite class amongst the very best bands in the world The National are operating at the peak of their powers, and the band continue to astonish. 
The National have always included New Zealand in their touring schedule and have a deep affinity with the country and their fans here. As regular visitors they have headlined shows at Spark Arena 2014, Auckland City Limits 2017 and Villa Maria Winery 2018. Excitingly this tour will call in for the very first time in Wellington playing at the TSB Arena as one of the opening shows in the Aotearoa New Zealand Festival Of The Arts. These performances will be the first opportunity to hear the band play new songs from these recent albums since their last visit six years ago. (I Am Easy To Find 2019, First Two Pages of Frankenstein April 2023 and Laugh Track Sept 2023). 
The National's ninth studio album First Two Pages of Frankenstein was released in April this year with a stacked line-up of guest musicians including Taylor Swift, Phoebe Bridgers and Sufjan Stevens. It has been received as a career highlight with NME's five-star review proclaiming "This is The National at their absolute best." 
In a year that is proving to be a high watermark in creativity for the band, The First Two Pages album was released in April to rave reviews and hard on its heels were two brand new singles that dropped out of the blue in August 2023 (Space Invader and Alphabet City). Incredibly, just last week the world was taken by complete surprise when The National released their tenth album Laugh Track on 18 September, which includes Weird Goodbyes with Bon Iver's Justin Vernon, originally released in August 2022 as a standalone track. 
The 12 song Laugh Track is a companion record to First Two Pages of Frankenstein featuring material originally started in the same sessions, and honed in live performances this year. It features guest appearances by Phoebe Bridgers and Rosanne Cash. The band consider it their most freewheeling, all-hands-on-deck album in years. 
The National's devotion to their craft has led to extraordinary success – including hitting Number 1 in the US and winning a GRAMMY Award (Best Alternative Album) for Sleep Well Beast (2017). The band have now had multiple number 1 selling albums in multiple countries around the world. The National's touring continues apace headlining arenas and festivals around the world, and working with countless culture defining artists across all media. 
By turns beautiful, painful, introspective and transcendent, The National have a songbook to rival any. Live highlights like Bloodbuzz Ohio, I Need My Girl, Mr November, Fake Empire, and The System Only Dreams In Total Darkness are now joined by new instant classics like Tropic Morning News and Eucalyptus. THE NATIONAL are quite simply a magnificent band, and these upcoming shows will live long in the memory. 
Tickets go on sale on Monday 2 October at 9am from TICKETMASTER. 
The National hail from Ohio, USA and were formed in Brooklyn, New York City in 1999. They are, and always have been, Matt Berninger (vocals), twin brothers Aaron Dessner (guitar, piano, keyboards) and Bryce Dessner (guitar, piano, keyboards), as well as brothers Scott Devendorf (bass) and Bryan Devendorf (drums).