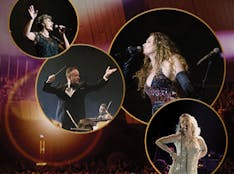 Classical
The Music is Bond Tickets
Events
5/11/2022

Auckland, NZ

Kiri Te Kanawa Theatre

The Music is Bond
About
A thrilling symphonic event celebrating the music of the world's most famous spy.
Featuring a superb cast of hand-picked soloists, and the magnificent sound of the Auckland Philharmonia, 'The Music is Bond…' showcases the unforgettable songs and iconic music over 50 years of music from the James Bond films. 
Bond themes have been performed by some of the greatest pop artists of their generation. Beginning with the unmistakable sound of Shirley Bassey, and including Adele, Tom Jones, Paul McCartney, Tina Turner, Sheena Easton, Duran Duran and many more. 
Opening with the spectacular Bond Theme, the performance includes classics such as Skyfall, Goldfinger, Diamonds Are Forever, From Russia With Love, Live and Let Die, For Your Eyes Only, A View to a Kill, The Spy Who Loved Me and many more. 
Starring Caitlin Smith, Lavina Williams, Ali Harper, and Fergus Inder (Jersey Boys). 
Presented and conducted by Tim Beveridge