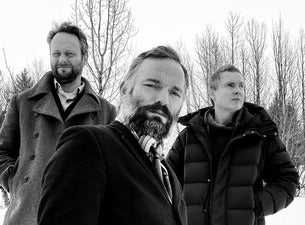 Rock and Pop
Sigur Ros Tickets
Events
New Zealand
There are no upcoming events in New Zealand
Don't worry, there are other events available below
International Events
2 Events
9/08/22

Brisbane, QLD, Australia

The Fortitude Music Hall

Sigur Ros

10/08/22

Brisbane, QLD, Australia

The Fortitude Music Hall

Sigur Ros
About
Secret Sounds, Live Nation and CRS are thrilled to announce that SIGUR RÓS will be extending their 2022 world tour to New Zealand. The Icelandic band are set to play one show in Auckland at Spark Arena on August 6 and will come armed with new music, along with material from their acclaimed 25-year discography. 
Tickets for all shows go on sale at 1pm on Monday 4 April.   
My Live Nation members can secure tickets first during the exclusive pre-sale beginning at 9am on Friday 1 April, concluding at 12pm on Friday 1 April.  
For complete tour and ticket information, visit: livenation.co.nz 
Sigur Rós sent fans into a frenzy in February this year, sharing news that the band are coming out of hibernation and are in the works of writing and recording their first studio album since Kveikur  in 2013. The news continued to get better with former keyboardist Kjartan Sveinsson announcing he has re-joined the band after stepping away to focus on other projects almost a decade ago. 
Since breaking internationally in 1999 with their uniquely brilliant second album Ágætis Byrjun, which won the inaugural US Shortlist Prize for Artistic Achievement in Music, Sigur Rós have become one of the most successful bands of recent times. From their six number one albums in Iceland to platinum-selling albums and sell-out tours in all directions – they are a global sensation. 
Known for their distinctive ethereal music, Sigur Rós creatively fuse the opposing forces of majesty and intimacy to shape their inimitable sound, complimented by Jónsi's haunting falsetto and reverberating guitar (often played with a cello bow). Psychogeography plays a strong part in Sigur Rós' music, as the compact island that they call home is an incredibly diverse landscape of volcanic rock, fire and ice, with mountains, glaciers and sea in every direction. Be transported there when you catch them live in August. 
Sigur Rós have released their own film documentaries, including Route One, filmed on Iceland's ring road in permanent daylight on the longest day of the year and broadcast live on national TV and YouTube, to a soundtrack created by generative music software. Hollywood, independent film and TV have used their music extensively including the BBC natural history series Planet Earth, they have also created special recordings for The Simpsons and Game Of Thrones (even appearing on screen for the latter) in 2013. 
In the years since Kveikur, Sigur Rós saw the departure of drummer Orri Páll Dýrason in 2018 and launched the 'Liminal' soundbaths and endless playlists, built around blissed-out re-imaginings of moments from their catalog both familiar and obscure. In 2020 they released the almost mythical 'lost' recordings Odin's Raven Magic, an orchestral album originally made nearly two decades prior. The band have also reissued their albums Agætis Byrjun, Takk, ( ), Með suð i eyrum við spilum endalaust and Valtari on their own label, Krunk. Alongside this, frontman J​​ónsi has released two solo albums, Shiver and Obsidian. 
Sigur Rós are back better than ever and sure to mesmerise New Zealand fans with their impressive discography, highly anticipated new album and breathtaking performances.