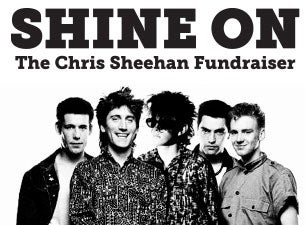 More Music
Shine On: The Chris Sheehan Fundraiser Tickets
Sorry... there are currently no upcoming events.
About
Iconic pop heroes The Exponents have enjoyed something of a resurgence over the last couple of years.
The band has celebrated thirty years of rocking NZ and all four founding members contributed to the making of a TV documentary of their fascinating story.
During the research period of the documentary, contact was made with ex member Chris Sheehan and the band discovered their ex guitarist and friend was ill. 
Sheehan joined Dance Exponents on guitar in 1983 and was widely recognised as bringing a new edge to the group, best heard on his first recording, Sex & Agriculture produced by Julian Mendelsohn.   He played on the follow up record, Expectations which featured the singles My Love For You, Christchurch (In Cashel St. I Wait) and Greater Hopes, Greater Expectations.
Chris moved to the UK with the band in 1986 and elected to stay on when the other members returned to New Zealand in 1990.  Sheehan formed his own group The Starlings as well as playing with The Mutton Birds and Sisters Of Mercy.
He later moved to Spain with his wife and children where they run an animal shelter.  Recently he posted the following on his facebook page and the news is worse than anyone could imagine.
'I can't justify any of my limited income to be spent on my own non-profit activities. Stage 4 metastatic nodular melanoma. Clinical trials and palliative treatment only. Wife terminally ill. Dozens of rescue animals. I don't own a computer anymore and would like a good laptop and software to see what comes out. I will not divert money from my family for selfish artistic urges. Maybe someone who enjoyed a Starlings record at some time is flush. Ta Chris'.
The four founding members of the band have rallied to send funds to Chris and the family.  The obvious thing was to play a show, to have friends, family and fans of the band come together and to help contribute to the family and in the hope that Chris can make another record.