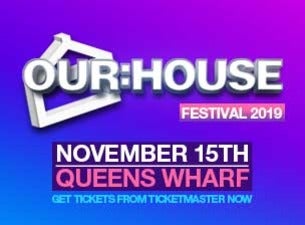 Dance/Electronic
OUR:HOUSE Tickets
Sorry... there are currently no upcoming events.
About
The SELL OUT Show OUR:HOUSE Waterfront is back for 2019!! 
Featuring.... 
DUKE DUMONT
MARTEN HØRGER
GODLANDS
ODD MOB
JACKNIFE
OTÓSAN
DAN AUX 
+ AFTERPARTY SPECIAL GUESTS
DICK JOHNSON // TIM PHIN // SEYMORE // JAYCEN AMOUR
AYDEN HARRIS // SO & SO // TETO //BLOOM // OOSH // & MORE 
Leave work early
Book the weekend off
And start getting hyped because
this is an OUR:HOUSE that you won't want to miss.
DUKE DUMONT is one of house music's biggest acts
internationally and his show for NZ is set to light up the Wharf
with hits such as Ocean Drive, Redlight & I Got U. 
Secure your limited "2 for 1 priced" tickets from ticketmaster NOW!
OUR HOUSE 2019
SHED 10 QUEENS WHARF
NOVEMBER 15 
Presented by Vype
Thanks to our friends at Jagermeister, Heineken, Absolut, Jameson & GeorgeFM