Museums and Exhibits
Michelangelo - A Different View Tickets
Events
We're sorry, but we couldn't find any events
About
Michelangelo – A Different View exhibition will remain open under the Ministry of Health Covid Protection Framework – Red until Sunday 13 February.
A maximum of 100 people may be in the exhibition space at any one time, and admission will continually circulate throughout the day. All attendees will be required to scan in, show their vaccination certificate and wear a mask where required. Read the media release here.
Under license from the Vatican Museums, this extraordinary exhibition brings the most complete and authentic reproduction of Michelangelo's beautiful ceiling frescoes of the Sistine Chapel to be shown outside the Vatican.
For the first time in New Zealand and showing in Auckland only, Michelangelo - A Different View offers unprecedented access to these world-famous masterpieces, at just metres away. 
Michelangelo - A Different View presents a very different picture of Michelangelo's works: the exhibition shows photo-mechanically reproduced copies almost in original size and in a way that invites visitors to look at them up close and in their own time.  
Michelangelo - A Different View is a transformative experience that allows attendees to look down on The Genesis that is enshrined on the ceiling of the Sistine Chapel rather than up…. hence the name "A Different View". This offers a much closer perspective of what its Florentine creator did. The rest of the frescoes are in frames and can be viewed at a distance of just 2m.  
With no time constraints, guests can allow these masterpieces to truly soak in.  
Some 50 pieces, including an almost original size a 4.6m x 20m reproduction of The Genesis (which includes the Creation of Man) and a 3.8m x 3.8m version of the Last Judgment are just 1-2 metres away while audio guides, accessible via personal devices (please bring your own phone or and head set), mean visitors can experience the Florentine master's interpretation of the history of creation in a way they never imagined. 
As an addition to – and to complete – the exhibition Michelangelo - A Different View, 14 of these impressive frescoes await visitors in the entrance. The scenes from the life of Jesus and that of Moses painted by Sandro Botticelli, Pietro Perugino, Domenico Ghirlandaio and Cosimo Rosselli provide additional historical background and allow for a deeper insight into this epoch.
News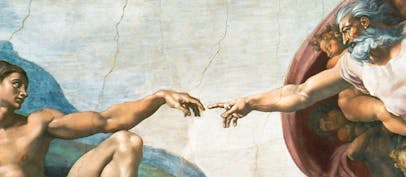 'Michelangelo – A Different View' brings a slice of Rome to
Have you always wanted to see the Sistine Chapel?
FAQS
The health and safety of our patrons and staff is our priority. Auckland Live and The Stetson Group will be operating to the Ministry of Health Covid-19 guidelines and directives in place during Michelangelo – A Different View.  Under the Covid-19 Delta Protection Framework all visitors are required to comply with our venue conditions of entry, including showing a valid My Vaccine Pass as proof of vaccination, mandatory sign-in, and wearing a face covering when required.  

Click here for all Auckland Unlimited Covid-19 guidelines and FAQs

CONTACT TRACING:
In compliance with the Government's Covid-19 mandatory record keeping at places and gatherings, the names and contact phone numbers of all event attendees are required before completing this ticket purchase*.

*This information is being collected to assist in the management of the Covid-19 pandemic. It will be given to public health officials in the event it is required for contact tracing. We will not use it for any other purpose and will destroy it after 60 days.

HYGIENE AND CLEANING: 
Hand sanitising stations are present and good hand hygiene practices are encouraged for all visitors and there will be increased frequency of cleaning in all spaces in the exhibition.

PHYSICAL DISTANCING:
MICHELANGELO A Different View allows for plenty of space for physical distancing. Numbers of visitors at any one time inside the exhibition will be monitored and controlled by venue management. Signage will be in place advising visitors on all Covid-19 protocols and guidelines.

MICHELANGELO A Different View is a transformative experience that allows visitors to look down on images of scenes from The Bible's book of Genesis that are enshrined on the ceiling of the Sistine Chapel, rather than up…. hence the name "A Different View". This offers a much closer perspective of what its fresco's famous Florentine creator achieved. Additional framed images of frescoes from the Chapel's walls can be viewed at a distance of two metres.

The gallery exhibition space also features photo-mechanically reproduced copies almost in original size and in a way that invites you to look at them up close and in your own time.

Yes, and we strongly recommend you book tickets online in advance of your visit. Your ticket is valid for single entry any day from 3 – 30 January 2022, giving you plenty of options for attendance.

There is an early-bird price available pre-Christmas of $39.00* up until 11.59pm, 24 December. After this time, tickets will increase to $45.00* so we urge you to book early to take advantage of this $6.00 saving! 
*service fees apply

No, all tickets are non-date specific to allow you the ability to choose which day you'd like to attend. Note that there might be some delay in your admittance to the exhibition dependant on capacity.

Yes, Audio Guides are available. You will need to bring your own headphones or earbuds, and via a QR code at the entrance to the gallery you will be able to hear descriptions in English of the exhibition. No app is required for the QR code. There will also be a Reading Guide for visitors with hearing difficulties, and a similar guide in Te Reo Māori.

The MICHELANGELO A Different View is Monday to Sunday 10am to 5pm. Final admittance time each day is 4:30pm.

We encourage you to move around freely on the pre-determined path and to take your time viewing the exhibition from different perspectives, while being mindful of other visitors in the venue.

As there are no specified viewing times, you should plan to give yourself time to relax upon arrival. If there are queues you can pass the time absorbing the additional exhibition material at the entry, or maybe enjoy a coffee or refreshment at The Terrace Café overlooking Aotea Square.

The Civic Car Park is an 828-space covered car park under Aotea Square, on the same level as the MICHELANGELO A Different View gallery. Accessibility parking is available. Entry is from Greys Avenue and Mayoral Drive. For more information on The Civic Car Park click here

Experience in Europe shows that most visitors to MICHELANGELO A Different View spend around 60 – 90 minutes at the exhibition.

We encourage the attendance of children by making entry free for youngsters under 12 years of age, accompanied by at least one adult.

Yes, you are more than welcome to take non-professional photos and videos inside the exhibition, but we request that you be considerate of other visitors when doing so. When posting images and comments on social media, please use the hashtag #MADVAuckland and share your experience as widely as possible. No professional photography or filming is permitted.

Yes, there is a box office on-site, but advance bookings are highly recommended. There is no Service Fee payable for box office ticket purchases, but credit card charges will apply.

Yes, the individual motifs are explained in the context of the books of the Bible from the perspective of the great master himself. In the introduction, Michelangelo Buonarroti explains how he obtained the assignment. He also provides a little insight into the adversities that were typical for everyday life in Italy in those days. The audio guides are accessed by a QR code displayed at entry to the exhibition, so that visitors may listen on their personal devices at each motif. The installation of an app is not necessary. We also provide a printed version of the audio guide, for visitors with hearing difficulties.

Pushchairs can come into the gallery.