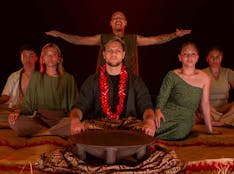 Sorry... there are currently no upcoming events.
About
Fusing Pacific, Māori, hip-hop and contemporary dance, this celebrated production retells Māui's legend using the language of movement, music, projected film sequences and stunning graphic illustrations.
Choreographed by Hadleigh Pouesi, Christopher Ofanoa and Leilani Elliott and featuring an epic cast, MĀUI covers themes of strength, growth, leadership, and vulnerability.  
Showing at the esteemed Kiri Te Kanawa Theatre at Te Pokapū, Aotea Centre for the very first time and presented as part of the 2022 Matariki Festival and Pacific Dance Festival programme, MĀUI captures the stories that have travelled throughout the Pacific for hundreds of years, re-told like never before. 
___________________________________

He hono i ngā mahi a te rēhia Māori me te Moana nui ā-Kiwa tae atu ki te hipihope me te kanikani o nāianei te mahi a tēnei whakaaturanga, waihoki, e tāruatia ana ngā pūrākau o Māui mā roto i te reo tinana, me ngā puoro, tae atu ki ngā wāhanga kiriata mā runga tukuata, me ngā whakaahua whakairoiro mīharo rawa atu. 
He mea tito ngā nekenekehanga e Hadleigh Pouesi rātou ko Christopher Ofanoa ko Leilani Elliott. He mīharo rawa atu te kāhui kiriwhakaari e whai wāhi ana, ko te mana, me te tupu, me te whakaraerae me te āhua o te kaitātaki ngā kaupapa mātuatua o MĀUI.  
Mō te wā tuatahi e whakakitengia atu ana te whakaaturanga nei ki te whare whakaari mana nui ko Kiri Te Kanawa kei Aotea – Te Pokapū. He whakaatu i ngā kōrero tuku iho e kōrero whānuitia ana i te Moana Nui ā-Kiwa te mahi a MĀUI mō te hia rautau, ā, he ritenga kore te tāruatanga o aua kōrero.  Ka whakaaturia te whakaaturanga nei ki te Taiopenga o Matariki 2022 me te Taiopenga Kanikani Moana Nui ā-Kiwa.