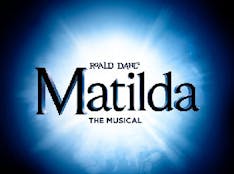 Musicals
Matilda the Musical Tickets
Week 1
0 Events,

Sunday, 1 September
Week 2
0 Events,

Monday, 2 September

0 Events,

Tuesday, 3 September

0 Events,

Wednesday, 4 September

0 Events,

Thursday, 5 September

0 Events,

Friday, 6 September

0 Events,

Saturday, 7 September

0 Events,

Sunday, 8 September
Week 3
0 Events,

Monday, 9 September

0 Events,

Tuesday, 10 September

0 Events,

Wednesday, 11 September

0 Events,

Thursday, 12 September

0 Events,

Friday, 13 September

0 Events,

Saturday, 14 September

0 Events,

Sunday, 15 September
Week 4
0 Events,

Monday, 16 September

0 Events,

Tuesday, 17 September

0 Events,

Wednesday, 18 September

0 Events,

Thursday, 19 September

0 Events,

Friday, 20 September

0 Events,

Saturday, 21 September

0 Events,

Sunday, 22 September
Week 5
0 Events,

Monday, 23 September

0 Events,

Tuesday, 24 September

1 Event,

Wednesday, 25 September

1 Event,

Thursday, 26 September

1 Event,

Friday, 27 September

2 Events,

Saturday, 28 September

1 Event,

Sunday, 29 September
Week 6
0 Events,

Monday, 30 September
About
Matilda The Musical is the multi-award winning musical inspired by the beloved book by the incomparable Roald Dahl.
Inspired by the twisted genius of Roald Dahl, the Tony Award-winning Roald Dahl's Matilda The Musical is the captivating masterpiece that revels in the anarchy of childhood, the power of imagination and the inspiring story of a girl who dreams of a better life. With book by Dennis Kelly and original songs by Tim Minchin this musical is a winner of over 100 international awards and continues to thrill sold-out audiences of all ages around the world.
Matilda is a little girl with astonishing wit, intelligence and psychokinetic powers. She's unloved by her cruel parents but impresses her schoolteacher Miss Honey. During her first term at school, the two forge a bond as Miss Honey begins to recognize and appreciate Matilda's extraordinary personality. Matilda's school life isn't completely smooth sailing, however – the school's mean headmistress, Miss Trunchbull, hates children and just loves to punish those who don't abide by her rules. But Matilda has courage and cleverness in equal amounts, and could be the school pupils' saving grace!
Packed with high-energy dance numbers, catchy songs and an unforgettable star turn for a young actress, Matilda is a joyous girl power romp. Children and adults alike will be thrilled and delighted by the story of the special little girl with an extraordinary imagination.
Featuring an all local cast, including some of New Zealand's most talented child performers, Matilda will be the show to see in Auckland 2024!
FAQS
Concession pricing is available on certain seats for the following ticket holders:

 

Child (age 13 and under)

Senior (age 65+)
Student (up to Tertiary level with valid ID)

Groups of 8 or more



Please note that concessions do not apply to all seating areas.  Where available, concession prices will appear as options after seat selection.  Please ensure the correct ticket prices have been selected before completing payment.  I.D. may be requested upon entry.

Show includes the use of haze, strobe, and flashing lighting effects.

2 hours 35 minutes including a 20-minute interval.

Recommended for little geniuses age 6+. All children attending must hold a ticket.  All children under 14 years must be with a caregiver at all times.  A caregiver cannot be under 14 years of age.

Groups of 8 or more can purchase directly online at the Group concession price for select performances and seating.

Groups of 8 or more may also reserve seats (whether or not these are the Group concession price) and arrange deferred payment via the Ticketmaster Group Bookings Department.  For further details please email groups@ticektmaster.co.nz.

We understand circumstances change and your chosen performance date or time may no longer suit. Tickets may be exchanged for different performances of the originally purchased production.

Exchanges must be made no later than 48 hours prior to the start of the originally ticketed performance and may not be made for the same performance. Exchanges cannot result in fewer tickets or seats in a lesser price category than originally purchased. All exchanges are subject to availability and at the discretion of the producers. Please click here to submit a request.

Enjoy an extra special musical evening with our 'Crunchem Hall Hospitality Suite' VIP package. Relax in an exclusive VIP area within the Bruce Mason Theatre and avoid the bustle with an usher to take you to your seats.

-          Premium Stalls seating with extra leg room

-          An exclusive VIP area open 90 minutes before the show begins and during the interval

-          A welcome drink and snacks upon arrival in the VIP area

-          Use of a private washroom and cloakroom

-          Continued access to the lounge during the interval – and an ice cream to enjoy

-          An exclusive bar within the lounge where you can purchase any additional drinks pre-show and during interval. There will be no queues!