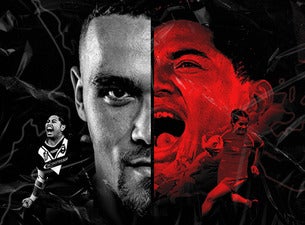 Rugby League
Kiwis Tickets
Sorry... there are currently no upcoming events.
About
It is the return. 
The return of rugby league to Aotearoa, the return of the Black and White, the return of the red sea and the return of one of the biggest rivalries in international rugby league. 
Saturday, 25 June, Tāmaki Makaurau Auckland's Mt Smart Stadium plays host as the Kiwis and Kiwi Ferns face off against Pacific rivals Tonga in a blockbuster double-header worthy of the wait. 
Pre pandemic, the No.1 ranked Kiwis were hot off a series win against Great Britain and a 34-14 victory against their Tongan rivals in 2019. Despite their loss to the Kiwis, Tonga achieved a historic 16-12 upset over the Kangaroos in the same year. 
Fourteen years have passed since the Kiwi Ferns faced Hakula Tonga. The two nations will now meet again off the back of 2020 victories, as we aim for a world record women's rugby league crowd attendance. 
Sit among fellow Kiwi supporters thanks to the Pirtek Kiwi Whanau stand and join us in the inaugural celebration of Matariki as we finally see the return of Test match rugby league to New Zealand shores. 
THE RETURN
Te Hokinga Mai | Toe Foki Mai 
Saturday, 25 June Mt Smart Stadium Auckland 
3:40pm NZT Kiwi Ferns v Tonga
5:40pm NZT Kiwis v Tonga