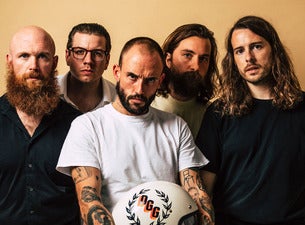 Alternative Rock
IDLES Tickets
Events
28/10/22

Wellington, NZ

Shed 6

IDLES

29/10/22

Auckland, NZ

Great Hall, Auckland Town Hall

IDLES
International Events
4 Events
31/10/22

Melbourne, VIC, Australia

Forum Melbourne

IDLES

1/11/22

Melbourne, VIC, Australia

Forum Melbourne

IDLES

6/11/22

Brisbane, QLD, Australia

The Fortitude Music Hall

IDLES

6/11/22

Brisbane, QLD, Australia

The Tivoli

Idles - *Moved to Fortitude Music Hall*
About
Fresh off the back of their brand new album and sold out US tour, British rock band IDLES have announced they are returning to New Zealand in 2022. This will be the band's first time on Kiwi soil since their sold-out debut tour 'JOY AS AN ACT OF RESISTANCE' in 2019, in which they solidified themselves as a force to be reckoned with, bringing an unparalleled energy to stages across the country. 
The tour will see IDLES heading to Shed 6, Wellington on October 28 and finishing off at Auckland's Town Hall on October 29. 
Tickets go on sale at 12pm, Thursday 25 November. 
Vodafone  customers  can  be  among  the  first  to  secure  tickets  during  the  pre-sale  starting  at 12pm, Monday 22 November. Go to vodafone.co.nz/music. 
For complete tour and ticket information, visit: livenation.co.nz 
The tour announce follows the release of "CRAWLER," the fourth IDLES album in as many years and the follow-up to 2020's "Ultra Mono," the U.K. band's first No. 1 album, is unlike anything the band have released. If "Ultra Mono" was, in the words of guitarist Mark Bowen, "kind of like a caricature of our identity that helped us see it for all its flaws," "CRAWLER" is an album of reflection and healing amid a worldwide pandemic that stretched the planet's collective mental and physical health to the breaking point. 
IDLES frontman Joe Talbot says, "We want people who've gone through trauma, heartbreak, and loss to feel like they're not alone. This album shows the ugly side of where those things come from, but also how it is possible to reclaim joy from those experiences." He adds, "Before his assassination, Trotsky knew that Stalin's men were coming over to kill him. He knew he was going to die. What did he do? After watching his wife out in the garden, he wrote in his diary, 'in spite of it all, life is beautiful.' A week later, he gets an icepick in the head. He was just happy to sit in his garden watching the person he loved most do what she loved. I think that's a beautiful thing." 
The ability of the band (which also includes guitarist Lee Kiernan, drummer Jon Beavis and bassist Adam Devonshire) to juxtapose beauty and rage with humor and drama has never felt more satisfying than on "CRAWLER." 
Don't miss IDLES on their New Zealand tour in 2022!