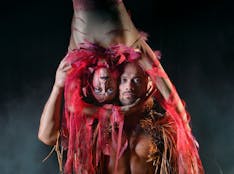 More Arts, Theatre & Comedy
Hatupatu | Kurungaituku Tickets
New Zealand
14/03/24

Rotorua, NZ

Energy Events Centre, Rotorua

Hatupatu|Kurungaituku: A Forbidden Love

15/03/24

Rotorua, NZ

Energy Events Centre, Rotorua

Hatupatu|Kurungaituku: A Forbidden Love

15/03/24

Rotorua, NZ

Energy Events Centre, Rotorua

Hatupatu|Kurungaituku: A Forbidden Love

16/03/24

Rotorua, NZ

Energy Events Centre, Rotorua

Hatupatu|Kurungaituku: A Forbidden Love

16/03/24

Rotorua, NZ

Energy Events Centre, Rotorua

Hatupatu|Kurungaituku: A Forbidden Love

17/03/24

Rotorua, NZ

Energy Events Centre, Rotorua

Hatupatu|Kurungaituku: A Forbidden Love

17/03/24

Rotorua, NZ

Energy Events Centre, Rotorua

Hatupatu|Kurungaituku: A Forbidden Love
About
Taki Rua presents the FNZ national tour of Hatupatu | Kurungaituku: a forbidden love.
Hatupatu | Kurungaituku : a forbidden love is a story of survival and love between the young Te Arawa warrior Hatupatu and the unique bird woman that is Kurungaituku.
Combining breathtaking aerials, kapa haka and an immersive multi-media performance environment, the predominantly standing audience will experience the bird realm fly over the audience's heads; led by the omnipresent Kurungaituku. In a De La Guarda inspired immersive environment, Artistic Director Tānemahuta Gray; (Māui – One Man Against The Gods, Tiki Taane Mahuta), brings his experience performing with this world leading aerial theatre company, to share this unique performance genre with New Zealand audiences nationwide. Tānemahuta joins forces with Wētini Mītai-Ngātai, leader of the two time Te Mataini winning national kapa haka rōpū Te Mātārae i Ōrehu to present a contemporary Māori theatrical experience you will not want to miss.
Hatupatu is murdered by his brothers for stealing the rich stores of kereru. He comes back to life to avenge his mistreatment and death at the hands of his brothers. On his way home, Hatupatu encounters the mythical bird woman, Kurungaituku, who ensnares him in her cave. An extraordinary love develops; but when Kurungaituku leaves Hatupatu alone in the cave to seek food for her beloved, he steals her treasured taonga and ransacks her home in the process. She chases him across the Te Arawa terrain and sacrifices herself to save him from the scorching mudpools and geysers of Whakarewarewa, leaving Hatupatu to return home to fulfil his destiny as a leader of his people.
Based on the Te Arawa iwi kōrero of Hatupatu and the bird woman, this thrilling aerial production by Taki Rua will envelop you in an immersive multi-media experience that evokes the forests and thermal forces of Rotorua.
Warning Advisor:  
This show utilises smoke, hazers and strobe. 
This 75 minute production is a standing experience for the majority of audiences attending the show. There is limited seating available for each show, but we request that you only purchase these seats if you can't stand for the full 75 minute duration, or have children attending with you. 
Age Restriction: 10 years and above. Children must be accompanied by an adult.