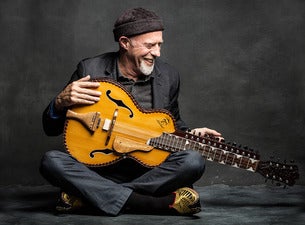 Jazz and Blues
Harry Manx Tickets
New Zealand
There are no upcoming events in New Zealand
Don't worry, there are other events available below
About
HARRY MANX (CANADA) 
"Harry's real skill lays in creating a rare musical place where blues, country, folk and Indian classical music co-exist as some spirit force".  Downbeat
Canadian Harry Manx is returning to The Tuning Fork in February 2018. This deeply original multi-instrumentalist has entertained audiences in more than 10 extensive tours since 2001. 
The explanation is simple. Harry's created his own genre, often referred to as the 'Mystissippi Blues'.  His mesmerizing sound is an organic fusion of eastern musical traditions with the Blues. The result is an expressive, moving and unforgettable new world. 
His unique toolbox is a fascinating range of conventional acoustic and electric guitars, banjo, harmonica, stomp box, and the Mohan Veena, created by Harry's Indian mentor Vishwa Mohan Bhatt.  His award-winning songs 'create musical short stories that wed the Blues with the depth of classical Indian ragas'. 
A worldwide festival favorite, Harry's 15 albums and ceaseless touring have seen him earn a slew of Maple Leaf, Juno and Canadian Folk Awards, nominations, and accolades from musicians and fans alike.  
"Watching Harry play tonight I feel like I learned something new……."
Bruce Springsteen, @ the International Guitar Festival, New York City
February 2014 saw the release of Harry's 12th studio recording – 'Ohm Suite Ohm'.  It features Harry's 'Bollywood electric slide guitar', instrumentals, original songs, a cover of John Coltrane's 'A Love Supreme', plus guest vocalists and international collaborators.
In 2015 came his first instrumental album called "20 Strings and the Truth". And for this 2018 tour, he'll be showcasing his latest album "Faith Lift".  This new recording features Harry playing a number of instruments accompanied by the Sydney Strings Quartet.