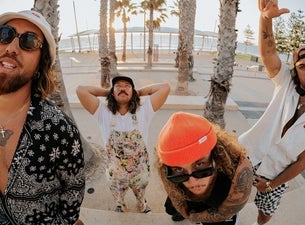 World Music
Coterie Tickets
New Zealand
28/12/23

Waihi Beach, NZ

Waihi Beach Hotel

Coterie - The Lush Leopard NZ/AU Tour

30/12/23

Christchurch, NZ

The Good Home Ferrymead

Coterie - The Lush Leopard NZ/AU Tour

31/12/23

Nelson, NZ

The Buxton

Coterie - The Lush Leopard NZ/AU Tour

3/01/24

Maidstone, NZ

Brewtown

Shake & Bake

11/01/24

Leigh, NZ

Leigh Sawmill

Coterie - The Lush Leopard NZ/AU Tour

12/01/24

Opononi, NZ

Opononi Hotel

Coterie - The Lush Leopard NZ/AU Tour

13/01/24

Mangawhai, NZ

Mangawhai Tavern

Coterie - The Lush Leopard NZ/AU Tour

17/01/24

Rotorua, NZ

Sir Howard Morrison Centre

Coterie - The Lush Leopard NZ/AU Tour

19/01/24

Havelock North, NZ

Black Barn Vineyards

Drax Project & Coterie
About
Perth-based, NZ born band of brothers, Coterie, are set to take the stage by storm this summer with their highly anticipated 'Lush Leopard Regional tour'. Known as "the most electrifying live band either side of the Tasman," Coterie have been making tidal waves in the music scene for the past 18 months.
Fresh off their win as "New Artist of the Year" at the prestigious 2023 Rolling Stone Awards, Coterie have been making headlines since their breakout hit "Cool It Down" reached platinum status in 2022. Topping the Radioscope NZ airplay chart and claiming the coveted #1 spot, the band has garnered over 30 million streams, achieved 1 platinum and 4 NZ Gold records, and received 5 award nominations at this year's Waiata Māori Music Awards. Their success has also led to back to back sold-out tours alongside renowned acts such as Six60, Lime Cordiale, The Cat Empire, and Sublime across Australia, New Zealand, and the United Kingdom.
Lead Vocalist Tyler Fisher expressed his excitement about the upcoming tour, stating, "We've been jamming in our parents garage our whole lives, so it's crazy to see our Live shows get this much support from the fans. At the end of the day, we're just local boys making music for our mates to vibe to!"
Youngest brother and guitarist Conrad Fisher added "But we also wanted to keep this tour feeling local so we've stayed away from major cities this time around and stuck to the beaches and lakes"
Kicking off the tour on December 28, at the Waihi Beach Hotel, Coterie will then head to Te Wai Pounamu playing Goodhome Ferrymead in Christchurch on December 30 before ringing in the New Year at The Buxton in Nelson on New Years Eve. The tour then heads back up north playing Totara St in Mount Maunganui on January 7, Leigh Sawmill on January 11, Opononi Hotel on January 12, The Mangawhai Tavern on January 13, Te Haumako, Rotorua on January . 
To wrap up the tour, Coterie will join New Zealand pop sensation Drax Project for 'Double Parked' a huge co- headline show at Black Barn in Havelock North on January 19. Joining both acts for this show only will be Aacacia, Paige and Australia's South Summit. 
Joining Coterie at Waihi, Christchurch and Nelson shows is George VILLA. VILLA has just released his debut EP 'Empty Pockets' which gives listeners a glimpse into the person he is with its chilled surf rock inspired sound. 
Joining Coterie at Mount Maunganui, Leigh, Opononi, Mangawhai and Rotorua will be New Zealand's own Paige who has just released her debut album 'King Clown' and West Australia's indie rockers South Summit. 
And joining Coterie for the Mangawhai show only is Raglan artist Muroki. Having just released his new single 'Middle Ground' Muroki is synonymous with Summer!
Coterie's live performances are a testament to their lifelong musical connection, evoking emotions that only 15 years of playing together can create. They are the perfect summer pairing and their Lush Leopard NZ Tour will see the guys take on new heights throughout Aotearoa for their biggest headline tour to date. 
Tickets for the The Lush Leopard NZ Tour go on sale Thursday 9 November at midday. For more information head to coterieclubcc.com . Don't miss the chance to experience Coterie on the road this Summer as they bring their music and energy to a city near you.