Musicals
Come From Away (Touring) Tickets
Events
17/08/23

Auckland, NZ

The Civic, Auckland

Come From Away (PREVIEW)

18/08/23

Auckland, NZ

The Civic, Auckland

Come From Away

19/08/23

Auckland, NZ

The Civic, Auckland

Come From Away

19/08/23

Auckland, NZ

The Civic, Auckland

Come From Away

20/08/23

Auckland, NZ

The Civic, Auckland

Come From Away

20/08/23

Auckland, NZ

The Civic, Auckland

Come From Away

22/08/23

Auckland, NZ

The Civic, Auckland

Come From Away

23/08/23

Auckland, NZ

The Civic, Auckland

Come From Away

24/08/23

Auckland, NZ

The Civic, Auckland

Come From Away

25/08/23

Auckland, NZ

The Civic, Auckland

Come From Away

26/08/23

Auckland, NZ

The Civic, Auckland

Come From Away

26/08/23

Auckland, NZ

The Civic, Auckland

Come From Away

27/08/23

Auckland, NZ

The Civic, Auckland

Come From Away

27/08/23

Auckland, NZ

The Civic, Auckland

Come From Away

29/08/23

Auckland, NZ

The Civic, Auckland

Come From Away

30/08/23

Auckland, NZ

The Civic, Auckland

Come From Away

31/08/23

Auckland, NZ

The Civic, Auckland

Come From Away

1/09/23

Auckland, NZ

The Civic, Auckland

Come From Away

2/09/23

Auckland, NZ

The Civic, Auckland

Come From Away

2/09/23

Auckland, NZ

The Civic, Auckland

Come From Away
About
The Tony® and Olivier Award winning musical Come From Away tells the remarkable true story of thousands of stranded passengers and the small town in Newfoundland, Canada that welcomed them all.
Cultures clashed and nerves ran high, but uneasiness turned into trust, music soared into the night, and gratitude grew into enduring friendships. 
Don't miss this breathtaking new musical written by Tony® and Grammy nominees Irene Sankoff and David Hein, and helmed by Tony® winning Best Director, Christopher Ashley with musical staging by Olivier Award winner Kelly Devine. 
Newsweek cheers, "it takes you to a place you never want to leave!"
On 9/11, the world stopped. On 9/12, their stories moved us all.
News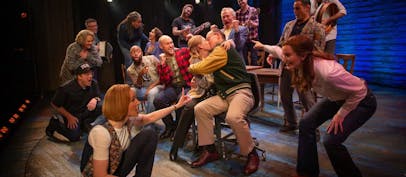 Smash hit musical Come From Away is coming to New Zealand
More than 20 years since 9/11, it is the events that happened after in a small Canadian town that are immortalised and celebrated in smash-hit musical Come From Away...
FAQS
1. Policy applies to performances of Come From Away in New Zealand.

2. Tickets may only be exchanged for performances of originally purchased season – i.e. Come From Away season in the same city.

3. Exchanges must be made no later than 48 hours prior to start of originally-ticketed performance.

4. Tickets may be exchanged for any other single performance on sale at time of exchange, subject to seat availability, blackout dates, sold-out performances and other restrictions. Exchanges may not be made for same performance.

5. Exchanges will only be made for tickets purchased through the authorised ticket seller for the venue:

a. For tickets purchased via Ticketmaster, you can do this directly from within My Account, see this link for instructions on how to do this.  Alternatively, you can submit a request.

b. For group sales please contact your groups representative. This exchange policy does not apply to tickets purchased through the Ticketmaster Groups Department.

c. Tickets purchased via 3rd party providers are subject to their exchange policies.

6. Exchanges will be valued at original face value of the ticket purchased. Additional payments apply if choosing a performance or section that costs more than the original or if exchanges are from an originally-discounted ticket into a performance with no discounted tickets available.

7. Guests may receive partial refunds if the face value of the original ticket is higher than the face value of the new ticket. Refunds are not otherwise allowed except as guaranteed under New Zealand consumer law.

8. New special offers may not be applied to exchanged tickets.

9. Exchanges may not be made to reduce the total number of tickets originally purchased.

10. Upon exchange, original tickets will be voided and will not allow access in to the performance. Customers must present newly issued tickets for entry into the performance.

11. Complimentary tickets and resold tickets are not eligible for exchange.

12. Other restrictions may apply. Exchange policy may change or be revoked without notice.