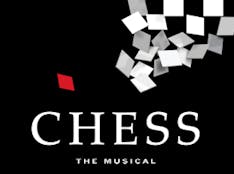 Events
We're sorry, but we couldn't find any events
About
This semi-staged concert series with an incredible array of New Zealand musical theatre talent, the Auckland Philharmonic Orchestra and a choir of thirty is presented by The Amici Trust and G & T Productions.
Chess is filled with sumptuous musical arrangements and robust musical set-pieces abound throughout the gripping story. 
Written in 1984 by ABBA songwriters Benny Andersson and Björn Ulvaeus, and Tim Rice, Chess tells a story of love and political intrigue, set against the background of the Cold War in the late 1970s/early 1980s, in which superpowers attempt to manipulate an international chess championship for political ends. 
Two of the world's greatest chess masters, one American, one Russian, are in danger of becoming the pawns of their governments as their battle for the world title gets under way. Simultaneously their lives are thrown into further confusion by a Hungarian refugee, a remarkable woman who becomes the centre of their emotional triangle. This mirrors the heightened passions of the political struggles that threaten to destroy lives and loves. Includes the international hit singles 'I Know Him So Well' and 'One Night In Bangkok'. Other well-known songs from the score include 'Anthem', 'Someone Else's Story', 'Heaven Help my Heart' and 'Pity The Child'. 
Producers Lounge
Enjoy our "A Night of Chess' VIP package, which includes an exclusive VIP area within the Aotea Centre, an usher to take you to your seats, and treats to guarantee your night will sparkle.
You're A Night of Chess tickets include the following benefits:
-          Premium seating in the front rows of the Circle (Rows L and M)
-          An exclusive VIP area open 90 minutes before the show begins and during the interval
-          A welcome drink and snacks upon arrival in the VIP area
-          Continued access to the lounge during the interval – and an ice cream to enjoy
An exclusive bar within the lounge where you can purchase any additional drinks pre-show and during interval. There will be no queues!
FAQS
Flexible Ticketing Policy

1. Policy applies to performances of Chess the Musical in New Zealand.

2. Tickets may only be exchanged for performances of originally purchased season – i.e. Chess the Musical season in the same city.

3. Exchanges must be made no later than 48 hours prior to start of originally-ticketed performance.

4. Tickets may be exchanged for any other single performance on sale at time of exchange, subject to seat availability, blackout dates, sold-out performances and other restrictions. Exchanges may not be made for same performance.

5. Exchanges will only be made for tickets purchased through the authorised ticket seller for the venue:

a. For tickets purchased via Ticketmaster, you can do this directly from within My Account, see this link for instructions on how to do this.  Alternatively, you can submit a request.

b. For group sales please contact your groups representative. This exchange policy does not apply to tickets purchased through the Ticketmaster Groups Department.

c. Tickets purchased via 3rd party providers are subject to their exchange policies.

6. Exchanges will be valued at original face value of the ticket purchased. Additional payments apply if choosing a performance or section that costs more than the original or if exchanges are from an originally-discounted ticket into a performance with no discounted tickets available.

7. Guests may receive partial refunds if the face value of the original ticket is higher than the face value of the new ticket. Refunds are not otherwise allowed except as guaranteed under New Zealand consumer law.

8. New special offers may not be applied to exchanged tickets.

9. Exchanges may not be made to reduce the total number of tickets originally purchased.

10. Upon exchange, original tickets will be voided and will not allow access in to the performance. Customers must present newly issued tickets for entry into the performance.

11. Complimentary tickets and resold tickets are not eligible for exchange.

12. Other restrictions may apply. Exchange policy may change or be revoked without notice.

At Auckland Live the health and safety of staff and visitors/audiences is our priority. Under the Covid-19 Delta Protection Framework all visitors are required to comply with our venue conditions of entry, including showing a valid My Vaccine Pass as proof of vaccination, mandatory sign-in, and wearing a face covering when required. Click here for all Auckland Unlimited Covid-19 guidelines and FAQs, including information on how we are keeping our people and venues safe.

Maintaining a safe and healthy environment for audiences, cast and the venue is of paramount importance.

If you are unwell, with any Covid-19 symptoms, please contact Ticketmaster on 0800 111 999 no later than 10 am on the day (for a matinee performance) & by midday (for an evening performance) at the latest and we will work with you to exchange your tickets for a future performance (subject to availability). Please note, Ticketmaster call centre operating hours are Mon-Sun 9am-5pm.

If you cannot get through by phone, you can fill in this contact request form and they will get back to you as soon as possible. We recommend that you continue to try to reach them if you need to discuss anything related to your tickets due to COVID related reasons BEFORE to your performance date.

If you booked your tickets and are an intercity or international traveller and are unable to attend the performance due to travel or quarantine restrictions, please contact customer service no later than a week before your performance and we will work with you to exchange your tickets for a future performance (subject to availability).

Exchanges are subject to availability at the time of exchange and must be of equal value of the original ticket(s) purchased. If you wish to exchange to a higher priced ticket(s), you will be asked to pay the difference in ticket price.

In those cases, if after following the above processes we are unable to facilitate an exchange for another performance, a refund will be offered.

No exchanges or refunds can be provided after the deadlines listed above or after a performance date unless required by applicable law.

Please note: We can only assist those who purchased their Chess the Musical tickets on Ticketmaster New Zealand, the authorised ticket seller, or through approved partners. If you purchased tickets through any other avenue, please contact the seller directly to learn more about their refund and exchange policy.