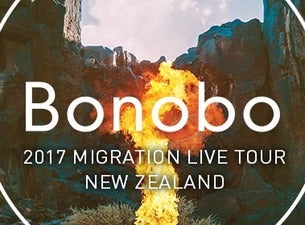 Dance/Electronic
Bonobo Tickets
Events
New Zealand
There are no upcoming events in New Zealand
Don't worry, there are other events available below
International Events
2 Events
7/08/2022

Brisbane, QLD, Australia

The Tivoli

Bonobo - Fragments Live Tour Australia 2022

8/08/2022

Brisbane, QLD, Australia

The Tivoli

Bonobo - Fragments Live Tour Australia 2022
About
BONOBO
ANNOUNCES AUSTRALIAN HEADLINE SHOWS
Following his announcement on the sold out Splendour In The Grass lineup, LA-based British musician, producer and DJ Bonobo added his own headline shows in Sydney, Melbourne and Perth this July. This is the first time since he visited since his sold out DJ tour in 2015, but this time he's bringing his full band to celebrate his latest release 'Migration'.
It's 17 years since Bonobo's first release Animal Magic and he's getting some of the strongest reviews of his career to date with Pitchfork calling his sixth album Migration "the most sophisticated record of his career" and reviewers of the live show equally impressed. The album features his recent collaboration 'No Reason' with Aussie favourite Nick Murphy (fka Chet Faker).
The Bonobo live show is simultaneously one of the biggest and most subtle electronic music performances you can get - he and his band hit 30 countries and audiences of 2 million in eighteen months supporting his previous release The North Borders and they spent two weeks in February rehearsing the live show before embarking on the tour that is set to check in to some of the world's best venues and festivals across the globe including Coachella and Fuji Rock Festival.
Don't miss this masterclass in taking genre melding electronic music out of the studio and onto the stage. 
"Bonobo (aka Simon Green) creates dance music to move your heart as well as your feet" - The Telegraph, UK
"Bonobo's career has traced a steady ascent from being the underground's artist of choice for a post-club comedown, to one of the most courted live acts in Europe, with chart topping releases either side of the Atlantic to boot." - Irish Times