Rock and Pop
Billy Joel Tickets
Events
3/12/22

Auckland, NZ

Eden Park

Billy Joel: In Concert, For One Night
About
LIVE NATION is thrilled to announce one of the greatest singer/songwriter/composers of modern times, BILLY JOEL will perform for one night only, in his first New Zealand stadium show in twenty five years on Saturday, December 3, with a history-making performance at the iconic Eden Park stadium in Auckland.
Vodafone customers can be among the first to secure tickets during an exclusive presale, starting at 10am Monday, July 18. Head to vodafone.co.nz/music.  
General public tickets go on sale 12pm Thursday, July 21.  For complete VIP, tour and ticket information, visit: www.livenation.co.nz 
An artist who requires little introduction, Billy Joel is one of the biggest concert draws in the world. Having sold over 160 million records and scoring six GRAMMY® wins from 23 nominations, Joel ranks as one of the most popular and respected entertainers in history – the sixth best-selling recording artist of all time, and the third best-selling solo artist.
In New Zealand Billy Joel has amassed an impressive 57 million streams, four number one albums and ten Top 10 albums. 1983's An Innocent Man spent a phenomenal 83 consecutive weeks on the New Zealand album chart and 1977's The Stranger, (certified 4 x Platinum) 77 weeks.
Billy Joel's anthology has soundtracked the lives of millions, his impeccable musicianship and transcendent songs recognised worldwide. Inducted into the Rock & Roll Hall Of Fame in 1999, Joel received The Kennedy Center Honors (one of the USA's top cultural awards) in 2013. In 2014, he received both The Library of Congress Gershwin Prize for Popular Song and the once-in-a-century ASCAP Centennial Award – the latter presented to American music icons in recognition of their incomparable accomplishments in their respective music genres and beyond. In 2016, the Library of Congress selected 'Piano Man' for preservation in the National Recording Registry for its "cultural, historic, and artistic significance."​ He's the recipient of numerous other awards, including a Tony (for Movin' Out, a Broadway musical based on his music), MusiCares Person Of The Year, and an inductee in the Songwriter's Hall of Fame. 
'Piano Man', 'You May Be Right', 'Always a Woman', 'We Didn't Start the Fire', 'Uptown Girl', 'Big Shot', 'It's Still Rock and Roll to Me', 'Only the Good Die Young', 'New York State of Mind'… the hunger to see this highly influential songwriter remains undiminished.
News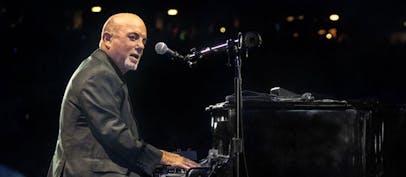 Billy Joel announces One Night Only show in New Zealand
The Piano Man is on his way...
FAQS
Live Nation & Ticketmaster Presale: Wednesday 20th July at 11am

General Pubic: Thursday 21st July at 12pm

In Demand Tickets are tickets to Billy Joel in some of the most sought after areas in the venue. Please Note – Ticket prices may fluctuate based on demand.  

In Demand tickets are made available by artists and event organisers through Ticketmaster. They give fans fair and safe access to the most sought-after areas in the venue at market-driven prices (adjusting prices according to supply and demand). In Demand tickets are ticket-only purchases, and prices are subject to change at any time.

Want a memento to remember your night? When selecting your tickets make sure you choose the Collector Ticket option to receive your Billy Joel specific souvenir.

Collector tickets will be dispatched approximately one month prior to the event. 

A ticket limit of 8 per customer applies.

VIP Hospitality Experience

One (1) A Reserve seat in a prime location on the floor
Access to the official pre-show party including:
undefinedundefinedundefinedundefinedundefinedundefined
Specially designed VIP gift item
Commemorative VIP laminate
Priority Entry into the venue
Designated VIP check-in and onsite staff

 

Gold Hot Seat

One (1) A Reserve seat in a prime location in the stand 
Specially designed VIP gift item
Commemorative VIP laminate
Priority Entry into the venue
Designated VIP check-in and onsite staff

 

Silver Hot Seat

One (1) B Reserve seat in a prime location in the stand
Specially designed VIP gift item
Commemorative VIP laminate
Priority Entry into the venue
Designated VIP check-in and onsite staff

VIP Experience terms & conditions Here

Log into your Ticketmaster account and update your password if needed!

Get in early and ensure all your MyTicketmaster account details are up to date – from your password to your card details and your phone number.

Ticketmaster will regularly ask you to update your password to ensure the security of your account – you don't want to get stuck having to change your password while the ticket timer is counting down during onsale as you can risk losing the incredible tickets you have secured.

Instead, now that you know you want to purchase tickets, log into your account and update your password today to ensure you are ready to nab those tickets.

Get to know Ticketmaster's Smart Queue

If you aren't familiar with Smart Queue, it is Ticketmaster's way of creating a clear and fair process for thousands of fans to buy tickets in a short space of time. Fans enter the virtual Waiting Room prior to onsale time before joining the Smart Queue – which acts as a 'virtual line', helping us protect you and your tickets in a more effective way.

The time you join the Waiting Room does not determine your place in the Smart Queue, so we recommend joining at least 10 minutes prior to the event going on sale.

When the sale begins, the Smart Queue will open and everyone in the Waiting Room is given a place in line. Those who did not join the Waiting Room will be placed at the end of the line.

Sign in to your Ticketmaster account at least 10 minutes before joining the Waiting Room. This will speed up your purchase later.
Confirm you have a valid form of payment in your account with current email and billing information. This will make checkout a breeze.
Resist the urge to refresh. Your page will automatically refresh when you enter the Smart Queue.
Keep an eye on the time! When it's your turn, your spot will be held for 10 minutes to begin shopping.
Just like before, tickets are always based on availability, demand, and are not guaranteed.

Find out more about Ticketmaster's Waiting Room and Smart Queue here

Get to know Mobile Tickets!

All tickets*** purchased to Billy Joel's 2022 New Zealand tour via Ticketmaster are digital, meaning you can easily access your tickets on your phone via the Ticketmaster app or the web browser on your mobile phone, add them straight to your phone's ticket wallet, and share them with your friends and family.

No PDFs, no printing, and no paper mean that you've always got your ticket with you.

Download the Ticketmaster App, and find more information about Mobile Tickets, here.

Top tip: To make entry on event day as quick as possible, we recommend adding your tickets to your phone's wallet before arriving at the venue!

**All tickets can only be accessed via mobile web browser or the Ticketmaster app, except Collector Tickets, which will be sent via mail prior to the event.

Hints and tips for improving your chances of getting Billy Joel tickets

Make sure you have a My Ticketmaster account

Get the basics covered before tickets go on sale by logging in and checking your Ticketmaster account ahead of time. If you don't have a Ticketmaster Account then make sure you sign up in advance – Ticketmaster.co.nz.

Sign into your My Ticketmaster account ahead of time

Remember to triple check your passwords, account information, and billing information are all filled in correctly in advance, that way you're not facing any last-minute account updates when trying to process your order.

Keep your options open with 'Best Available'

Save time by searching "Best Available," which scans all sections fast – it's quicker than searching sections one at a time.

Keep an eye on the clock

There will be a time limit applied to all transactions as they're progressed through the ticket purchasing stages. Remember to keep an eye on the timer on your screen and move through the processing pages as quickly as possible (this is even easier when you've completed the account set-up stage we mentioned above).

Don't refresh your screen

Stick to one window while you're in the Waiting Room and when you're being pushed through the Smart Queue and always resist the urge to refresh.

Hitting the refresh button means you'll lose your place in the queue and, as frustrating as it can get, patience is the only way to win this game. Ticketmaster is equipped with sophisticated systems that are designed to manage and process ticket purchases as quickly as possible. The queuing system that appears on your screen will place you at the front of the line as soon as possible.

Remember: there are a lot of fans

We're expecting this to be a very popular event. When a popular event goes on sale there are hundreds, and sometimes thousands, of customers all attempting to purchase tickets at the same time. Tickets are sold as long as seats are available, and when an act is as popular as Billy Joel, sometimes they go very quickly.

Be sure to follow the above tips to ensure you have the best chance of snapping up some tickets.

There is a print delay in place until Monday 3rd October 2022.