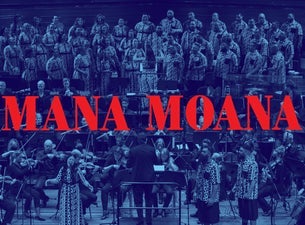 More Arts, Theatre & Comedy
Mana Moana Tickets
Sorry... there are currently no upcoming events.
About
New Zealand Symphony Orchestra Te Tira Pūoro o Aotearoa (NZSO) and Signature Choir with Live Nation present Mana Moana, an incredible musical experience coming to Auckland's Spark Arena for one night only Friday November 24, 2023.
Mana Moana is a celebration and fusion of two worlds of music colliding, with 80 choral singers and 78 NZSO musicians on stage showcasing the gorgeous harmonies and rich melodies of traditional songs from across Pasifika islands.
After selling out in 2022 in Wellington, this energetic, unique, and emotional celebration will bring traditional and contemporary songs from Samoa, Tonga, Fiji, Cook Islands, Niue and Tokelau to Auckland for this special community event.
A collaborative journey to celebrate and promote the languages and stories of Pasifika, in 2022 New Zealand Symphony Orchestra Te Tira Pūoro o Aotearoa (NZSO) and Signature Choir created high-quality audio recordings and videos of Pasifika songs in partnership with RNZ, followed by a live performance at Michael Fowler Centre in Wellington. Now this incredible musical experience comes to Auckland's Spark Arena in November 2023. Audience-recorded videos from the Wellington show have accumulated over 1 million views on social media, highlighting the massive impact Mana Moana has already made.
The Mana Moana project was curated by Helen Tupai, Music Director, Signature Choir in partnership with Wellington Pasifika communities, and orchestrated by Thomas Goss. Signature Choir draws its 80 members from across Wellington & Auckland, giving this show an even stronger connection to Auckland communities and making Mana Moana truly community-driven.
With the NZSO conducted by Brent Stewart from the NZSO, Mana Moana harnesses the huge majestic sound and varied colour palette of the NZSO to showcase the gorgeous harmonies and rich melodies of Pasifika music, creating a platform to tell these much-loved stories. It also marks one of the first times that a Pasifika choir has partnered with a fully professional orchestra to deliver a body of work that is 100% Pasifika music.
"Mana Moana re-imagines Pasifika music by fusing the power of choral harmony, with a lush and grand orchestra, making it a truly magical experience," says Signature Choir Music Director Helen Tupai.
"Singing our songs in a really unique, but still familiar fashion is so surreal and fun, so we are excited for our communities see Mana Moana in person. Partnering with a world-class orchestra to sing songs that are prominent and significant to our Pasifika communities provides a huge sense of pride, so much so that it's hard to not get emotional when performing."
The words 'mana' and 'moana' are common terms, shared across many Pasifika languages. Mana meaning sacred, spirit, prestige, power. Moana meaning the ocean, or a body of water. As our islands are all connected via the sea, with Mana Moana we wish to highlight the connectedness of our Pasifika nations through music, telling our stories and showcasing our beautiful Pasifika languages to Aotearoa and abroad.
The selection of songs was led by Wellington's Pasifika communities and included both traditional and contemporary songs, such as 'Faliu le la' – a song that depicts the beauty of Samoa's vast and beautiful landscape, 'Siueli o e pasifiki' written by Queen Salote Tupou III to proclaim her love for her beloved country, and 'Isa lei' – a Fijian farewell song, with choir arrangements by Helen Tupai and Jadrah Tupai. Key figures from Pasifika communities helped Signature Choir select songs on the basis of their prominence and significance to the Pasifika nations they represent and the stories that they tell.
Past Signature Choir member, and half of The Laughing Samoans, Tofiga Fepulea'I will MC Mana Moana at Spark Arena in November.