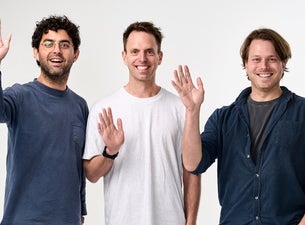 Lecture/Seminar
The Imperfects Tickets
New Zealand
6/04/24

Takapuna Beach, NZ

Bruce Mason Centre

The Imperfects
International
13/04/24

Surfers Paradise, QLD, AU

HOTA Home of the Arts

The Imperfects

28/04/24

Perth, WA, AU

Perth Concert Hall

The Imperfects

11/05/24

St Kilda, VIC, AU

Palais Theatre

The Imperfects
About
After their hugely successful debut live show tour of Australia in 2023, The Imperfects are back on the road again in 2024 – including first time visits to Auckland. Join co-hosts Hugh Van Cuylenburg, Ryan Shelton and Josh Van Cuylenburg as they discover how perfectly imperfect we all are.
Founder of The Resilience Project, Hugh van Cuylenburg, his brother Josh van Cuylenburg and comedian Ryan Shelton (neither of their brothers), are touring on an original stage show that will make you laugh, feel and think.
Receiving more than a million downloads each month, The Imperfects is an Australian podcast about how perfectly imperfect we all are.
Comparing ourselves to others is not only exhausting, it's extremely harmful. However, when we share our struggles, we start to realise that everyone has something they are battling with. The Imperfects aims to teach, inspire and share stories of vulnerability so we can all be happier, build authentic connections and become more resilient.
This isn't just another podcast episode on stage, this is a celebration of vulnerability and connection. Come and join the fun, or at the very least, embrace the imperfection.
Don't miss The Imperfects return to the live stage on their encore tour of Australia & New Zealand in 2024!