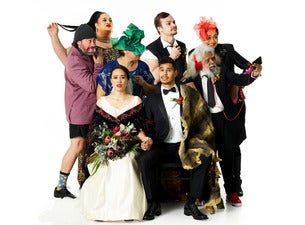 Events
We're sorry, but we couldn't find any events
About
Two families, two cultures... tumeke! 
When Māori corporate hotshot Hera and Aboriginal consultancy entrepreneur Kane locked eyes at a Cultural Awareness session, it was love at first sight. Ambitious and career focused, Kane and Hera now have their perfect future all mapped out. But there is one thing they can't control… their families! 
Join us for the biggest, brownest wedding ever – a hilarious, heart-warming theatre experience from award-winning ILBIJERRI Theatre Company and Te Rēhia Theatre. 
With a peerless cast including Lana Garland, Laughton Kora, Brady Peeti, Uncle Jack Charles, Mark Coles Smith and Tuakoi Ohia, and created by a brilliant team of Aboriginal, Torres Strait Islander and Māori artists, Black Ties reimagines the popular wedding rom-com from a distinctively First Nations perspective. It will be a party to remember.
Contains adult references and moderate coarse language 
Early Bird tickets on sale until Mon 9 Dec. Subject to availability.