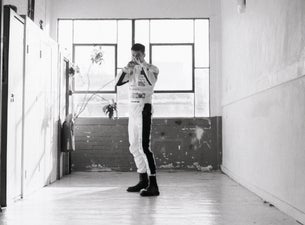 Alternative Rock
Eden Tickets
Sorry... there are currently no upcoming events.
About
Dublin-born musician, singer, songwriter and producer EDEN has announced his return to New Zealand for his ICYMI world tour in November 2023. He will be bringing his tour to Brisbane's Tivoli and finishing off the tour in New Zealand at Auckland's Powerstation.
Dublin-born producer EDEN's stunning new album In Case You Missed It consolidates the beating pulse of electronic music with the raw energy of a life resetting itself, revealing more about the label-head, multi-instrumentalist and songwriter than he has ever previously shared.
The breakthrough moment during the making of ICYMI came when EDEN returned to Dublin as the world went into lockdown in early 2020. The global pandemic spurred the move but a series of personal trials, including the loss of a friend and the end of a relationship, had left him feeling numb and unable to process what had happened.
"So many things in my life wrapped up and there was no going back," he says. "Suddenly I was back in my childhood bedroom and it was all very bizarre." It was in this moment, however, that EDEN wrote ICYMI's "Call Me Back," an epic centerpiece to the album that acts like a line in the sand; painful memories washing away to be replaced by a newfound sense of direction. "I was playing the chords over and over again and the melody for that song came and I started bawling my eyes out. That's never happened before, I've never been in tears over music in that way. It felt like a new horizon."
For EDEN, ICYMI is about accepting the past and moving boldly into the future. It's his most hard-fought and ultimately rewarding album to date; one that acknowledges the ways in which all of life is a collection of memories and feelings that inspire the next. It also feels like the most bold step forward from an artist who has, by his own admission, preferred to stay under the radar. Despite having released two studio albums and played live across the globe, until now he has always preferred to be seen as a lone ranger. With time, on top of long periods of isolation, this has changed and EDEN now embraces his community, which includes collaborators and friends such as rapper ATO, experimental artist Kai Whiston, and pop phenom Lauv
Catch EDEN's ICYMI tour in Australia and New Zealand this November!