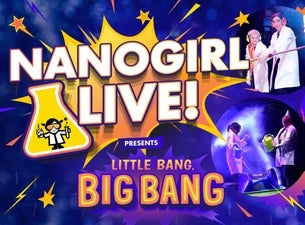 More Family & Attractions
Nanogirl Live! Tickets
Sorry... there are currently no upcoming events.
About
Nanogirl, and her trusty lab assistant, Boris, along with their Constantly Learning Artificial Intelligence Repository (CLAIR) are back for a brand new action-packed adventure, bringing you science and engineering as you have never seen them before!
Filled with experiments, explosions and music—Little Bang, Big Bang brings science and engineering to life in the coolest ways possible, right before your eyes! This interactive show gives lots of opportunities for young scientists to step on stage, collaborate with Nanogirl, and put science to the test! This performance is surprising, filled with mind-bending science and is guaranteed to be both entertaining and educational for the whole family!