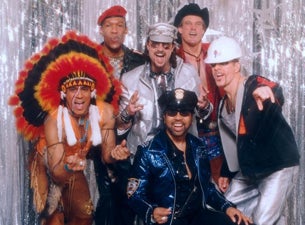 Rock and Pop
Village People Tickets

Village People Tickets and Concert Dates
Biography
Village People

Celebrating their 33rd year in show business, and the recipients of a star on the Hollywood Walk of Fame
(6529 Hollywood Blvd), the one-of-a-kind Village People are synonymous with dance, music and world
disco icons.
These six talented men - Felipe Rose, Alex Briley, David Hodo, Ray Simpson, Jeff Olson and Eric Anzalone, combine energetic choreography with outrageous fun and lots of bumping and grinding, singing and dancing, and provide great entertainment for all!
Their hits have included YMCA, IN THE NAVY, MACHO MAN, GO WEST, CAN'T STOP THE MUSIC and many more - all selling upwards of 100-million records worldwide.